R E V I E W B Y R I C H C L I N E
dir Frank Oz
scr Dean Craig
with Matthew Macfadyen, Rupert Graves, Andy Nyman, Keeley Hawes, Alan Tudyk, Daisy Donovan, Jane Asher, Peter Dinklage, Peter Vaughan, Kris Marshall, Ewen Bremner, Peter Egan
release US 29.Jun.07, UK 2.Nov.07
07/UK MGM 1h30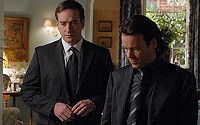 Undignified send-off: Macfayden and Graves



---
INTERVIEW WITH
FRANK OZ & THE CAST
---
The 2010 remake:


As with Dirty Rotten Scoundrels, Frank Oz goes for a playfully dark tone with this British ensemble farce. It's frequently very funny, although there's nothing much to it.

Aspiring author Daniel (Macfadyen) is preparing his father's funeral amid all kinds of distractions. His novelist brother Robert (Graves) jets in from New York, but won't help at all. His wife Jane (Hawes)is pushing him to move out from their mother's (Asher) house. The boyfriend (Tudyk) of his cousin (Donovan) has just accidentally been given a hallucinogen. Uncle Alfie (Vaughan) is on the rampage. And a small man (Dinklage) has something shocking to announce. Through all of this, Daniel's hypochondriac best friend Howard (Nyman) tries to maintain some semblance of order. But he's useless.

From the beginning, Oz establishes a breezy tone that undercuts the gallows humour and makes the film feel more silly than edgy. The family chaos is genuinely ridiculous, with everyone overreacting to whatever happens. British stiff upper lips are shaken by dark secrets, sexual innuendo and nudity, plus some slapstick involving a dead body (or two). None of this is terribly original or hilarious, but it's amusing enough to generate some solid laughs right through to the syrupy ending.

The script adeptly highlights normal family tensions, although most are eventually over-egged, such as Daniel's irritation that everyone expects Robert to do the eulogy since he's the writer in the family. These elements are nicely played by the cast without going over the top. In fact, all of the performances are surprisingly muted for such a zany comedy. Even Tudyk manages to underplay his drug fuelled delirium, in which he sees all manner of imaginary activity and ends up scurrying around the rooftop naked.

But this subdued goofiness ultimately undermines the film, and without genuine character depth there's nothing for us to grab hold of. The film's forced message about facing the truth and moving onward is deeply naive. And some of the gags are thoroughly contrived (pill-maker Marshall clearly has a hole in his pocket), while others lazily rely on simplistic vulgarity. In the end, the all-out pandemonium wins us over, but only just.
| | | |
| --- | --- | --- |
| | themes, language, some violence | 17.Jun.07 |