R E V I E W B Y R I C H C L I N E
dir-scr Kenneth Branagh
with Bryce Dallas Howard, David Oyelowo, Romola Garai, Adrian Lester, Brian Blessed, Alfred Molina, Kevin Kline, Richard Briers, Janet McTeer, Jimmy Yuill, Alex Wyndham, Jade Jefferies
release US 7.Apr.07 fest,
UK 21.Sep.07
06/UK 2h00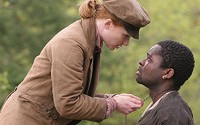 Between us boys: Howard and Oyelowo






Branagh again takes on Shakespeare, with mixed results. It's certainly energetic and entertaining, but it's like a long episode of an over-talky, out-of-control soap opera.

In 1880s Japan, Frederick (Blessed) overthrows his brother Senior (also Blessed) and banishes him to the forest with his court. This divides their daughters, best pals Rosalind (Howard) and Celia (Garai), who plot to reunite. Rosalind is also tentatively falling in love with the gifted, good-hearted Orlando (Oyelowo), who's annoyed that his controlling, jealous older brother Oliver (Lester) won't give him his inheritance. Stir in a wandering jester (Molina), a chatty philosopher (Kline), an ageing servant (Briers) and a sex-starved goatheard (McTeer), and the forest is getting somewhat overcrowded.

To be honest, this hodgepodge of plotlines feels like a sampler from all of Shakespeare's plays, mainly centring on the comedies as the threads intertwine farcically, even as tragedy threatens around every corner. It feels like a mid-summer daydream, as all of these lovelorn characters wander around the woods bumping into each other, stirring up the political intrigue and complicating their romantic lives inextricably.

The problem is that as a movie it's extremely uneven. Some stories don't seem to fit in, and the eclectic cast offers a vast range of acting styles. Howard is very good at the centre of the action, although her disguise as a boy is deeply unconvincing. The standout is easily the charming and thoroughly absorbing Oyelowo, while Lester is also solid in the film's most complex role. Garai suffers the worst, in a slapstick role, while Kline gets on the nerves with his meandering speeches.

Still, Branagh writes and directs with a lively, colourful bounce. He perhaps could have edited the story slightly, eliminating some distracting side-plots and perhaps some of the rambling dialog, which seems to consist mainly of long lists. But the film's design is gorgeous, and he balances the goofy comedy with sequences that are dark and moody, almost thriller-like. In the end, it's like watching a big-hearted show--you laugh, you cry, you sigh at the smiley ending. And it's well worth seeing just for Shakespeare's sharply relevant observations: "Your gentleness shall force more than your force move us to gentleness."
| | | |
| --- | --- | --- |
| | themes, violence, some innuendo | 15.Mar.07 |