R E V I E W B Y R I C H C L I N E
dir Ridley Scott
scr Steven Zaillian
with Denzel Washington, Russell Crowe, Chiwetel Ejiofor, Josh Brolin, Armand Assante, Ruby Dee, Carla Gugino, Cuba Gooding Jr, John Hawkes, Norman Reedus, Roger Bart, RZA
release US 2.Nov.07, UK 16.Nov.07
07/US Universal 2h27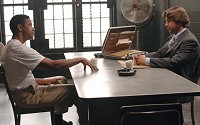 Who's the good guy: Washington and Crowe


---
See also:
RICH'S EXTREMELY BRIEF
INTERVIEW WITH
DENZEL WASHINGTON
(for Rotten Tomatoes)

This big, epic true story grips us with its impeccable production design and searing performances. But the tale unfolds in a superficial way that makes it impossible to care about what might happen.

In 1968 Harlem, Frank Lucas (Washington) quietly assumes power once his mobster boss dies. Lying low, he runs his gang with ruthless efficiency, using personal connections in the military to import heroin straight from the Vietnam source, offering higher quality while undercutting the Italian mob. Meanwhile, New Jersey detective Richie Roberts (Crowe) is assigned to a drugs task force, spending years tenaciously looking for the source of these pure drugs while avoiding the rampant corruption of his colleagues. These two men are on a collision course.

The parallels between these two men are fascinating, as they refuse to fall into easy definitions of good or bad. Both have a sense of integrity, as well as a warped morality that keeps their consciences clear even as they indulge in brutal behaviour. Washington and Crowe (and the solid supporting cast) get under the skin of these internalised, haunted characters. Although what we see isn't particularly likeable or charismatic.

Ridley Scott's other "serious" manly movie, Gladiator, had this same shallow veneer of complexity. He's a gifted director who deploys an expert crew to create films that look fantastic and have storylines packed with moral dilemmas. But none of these serious issues are dealt with in any depth. We are gripped by the layered performances, but unmoved and unchallenged by the situations.

There's also the problem that the film seems to be celebrating guns, drugs and Lucas' achievement as the first African-American gangsta in a criminal subculture run by Old World Europeans. And the irony of the gentleman killer is strained, while the rich crook, poor cop parallels are a little pushy. Much more meaningful is Roberts' quandary: just because he's honest about money doesn't mean he's any less corrupt than his colleagues.

In the end, the robust production design, intense set pieces and excellent performances win us over. This is a terrific story about a turbulent period in American history, and if it was told with more introspection and less moralising, it could have been a classic.
| | | |
| --- | --- | --- |
| | themes, language, violence, drugs, sexuality | 19.Sep.07 |