R E V I E W B Y R I C H C L I N E
dir Clark Johnson
scr George Nolfi
with Michael Douglas, Kiefer Sutherland, Eva Longoria, Kim Basinger, Martin Donovan, David Rasche, Blair Brown, Ritchie Coster, Kristin Lehman, Raynor Scheine, Simon Reynolds, Gloria Reuben
release US 21.Apr.06, UK 1.Sep.06
06/US Fox 1h48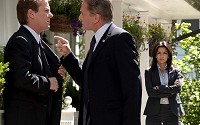 In the line of fire: Sutherland, Douglas and Longoria



It may be slick and entertaining, but this is also one of the most careless political thrillers ever made. The characters are strong, but the predictable plot never scratches the surface.

Pete Garrison (Douglas) is a veteran Secret Service agent, protecting presidents from Reagan to Clinton to Ballentine (Rasche). Although the fact that he has the hots for the First Lady (Basinger) is a bit of a problem. As is the news that there's a mole in the agency. Then the investigating agent (Sutherland) and his rookie partner (Longoria) discover evidence that leads to Pete, who goes on the run to clear his name and save the President from the shadowy bad guy (Coster).

Without even the slightest political edge, the film might have been about an assassination attempt on Bill Gates or Richard Branson. There's no reason why anyone wants to kill the benevolent U.S. President besides a dull sense that this is what bad people try to do. The villains come from the random fake post-Soviet republic of "Kharjistan". What's left is a bunch of people running around with guns, high-tech gadgets and all sorts of contrived personal issues. Only someone who has never seen a thriller will fail spot the mole within the film's first 15 minutes.

At least Johnson generates some visual style to distract us from the empty-headed, sexist script. The film is whizzy and flashy, with brisk pacing and nonsensical but colourful editing. As a mindless thriller, it's relatively watchable. And the cast is fine. Sutherland basically just plays his 24 character, the eerily ageless Douglas charges through the action scenes effortlessly, and Basinger does stone-faced emoting better than anyone. The big surprise is Longoria, who really shines in a badly underwritten role.

Frankly, it's insulting and offensive to use such important issues (the US presidency, G8 protesters, instability in Russia) as mere plot points. Without explaining why any of this is happening, the film feels as irresponsible as, say, someone casting a "pro-life" vote for a death-penalty promoting warmonger. Ahem. At least the nauseating CHiPs-like coda leaves us in no doubt as to the filmmakers' intent.
| | | |
| --- | --- | --- |
| | themes, language, violence | 29.Jun.06 |