R E V I E W B Y R I C H C L I N E
dir Ed Blum
scr Aschlin Ditta
with Eileen Atkins, Benjamin Whitrow, Ewan McGregor, Douglas Hodge, Adrian Lester, Catherine Tate, Tom Hardy, Sophie Okonedo, Andrew Lincoln, Holly Aird, Gina McKee, Hugh Bonneville, Mark Strong, Polly Walker, Eglantine Rembauville, Nick Sidi
release UK 3.Nov.06
06/UK Tin Pan 1h32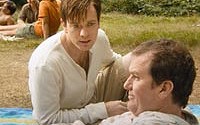 Felicity Kendal or Penelope Keith? McGregor and Hodge



EXCLUSIVE INTERVIEW:
SHADOWS MEETS
EWAN McGREGOR

Seven brief London stories are connected by their setting: Hampstead Heath on a summer day. Nicely filmed and acted, it's an enjoyable, although superficial, look at relationships.

The stories unfurl in real time, constantly returning to Iris and Eddie (Atkins and Whitrow), who meet for the first time after visiting the same spot weekly for some 40 years. There's also a gay couple (McGregor and Hodge) talking about children and fidelity, a just-divorced couple (Lester and Tate) who still feel pangs of affection, a young guy (Hardy) who meets a just-single young woman (Okonedo), a man (Lincoln) whose wife (Aird) isn't pleased by his wandering eye, a couple (McKee and Bonneville) on an awkward blind date, and a businessman (Strong) who has an appointment with his lover (Walker).

Each vignette has surprising wrinkles, although they're more like glimpses of interaction rather than actual narratives. But by touching on resonant themes, each scene at least develops the illusion of depth. And it helps that the breezy comical tone is underscored by a realistic sense of relational strain. On the other hand, while they're all nice little stories, there's no real emotional kick.

Brief sparks of feeling emerge--mainly in Atkins and Witrow's storyline, and also with Lester and Tate--but this is basically a comedy, which is clear from the cheery musical score and somewhat corny tone. The silliest story is the Lincoln-Aird scene that opens the film, acknowledging the fact that interest doesn't die, although the characters never actually talk about it. The best thread is McGregor and Hodge's, which bristles with real life, inside jokes ("that's a bit Cliff") and authentic relational tension.

Overall, it's beautifully photographed, effectively capturing the feel of a sunny afternoon on the Heath. And it's also skilfully edited, with threads overlapping here and there, while some characters briefly dip into other storylines. The entire cast is excellent, making the most of the underwritten, suggestive characters and adding strong, subtle flashes of inner life. But as a whole, it's pretty light and fluffy. Engaging but forgettable.
| | | |
| --- | --- | --- |
| | themes, language | 16.Aug.06 |