R E V I E W B Y R I C H C L I N E
dir Tim Johnson, Karey Kirkpatrick
scr Len Blum, Lorne Cameron, David Hoselton, Karey Kirkpatrick voices Bruce Willis, Garry Shandling, Steve Carell, Wanda Sykes, William Shatner, Nick Nolte, Thomas Haden Church, Allison Janney, Eugene Levy, Catherine O'Hara, Avril Lavigne, Omid Djalili
release US 19.May.06,
UK 30.Jun.06
06/US DreamWorks 1h26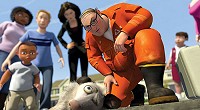 Playing possum: Looks like the "verminator" got Ozzie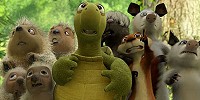 In addition to being sharp, funny and thoroughly engaging, this animated suburban romp has a witty sting in its tale about human nature as seen through the eyes of woodland creatures.

It's the first day of spring, and the critters are emerging from hibernation. Cheeky raccoon RJ (voiced by Willis) steals the snack stash of a snoozing bear (Nolte), and when he's caught he has a week to replace it before becoming a snack himself. So he sidles up to a makeshift family--cautious tortoise (Shandling), hyperactive squirrel (Carell), sassy skunk (Sykes), hammy possums (Shatner and Lavigne), curious porcupines (Levy and O'Hara)--convincing them to steal from food-obsessed humans. But one uptight woman (Janney) hires a ruthless "verminator" (Church).

The filmmakers keep things moving briskly, letting any comments on consumerism or environmentalism fall where they may. And this reluctance to sermonise is hugely refreshing. Sure, there's the usual message about the importance of family, but it's conveyed through lively characters we really grow to like over the course of the plot. Everything about them works--inventive and technically gorgeous animation, snappy vocal performances, witty writing. After so many bland factory-made kids' movies, it's a joy to watch something so intelligent and eye-catching.

The cast are clearly enjoying themselves. Willis and Shandling nicely handle the lead roles, while the colourful hilarity belongs to Sykes and her romantic lead Djalili (as a spoiled over-bred cat). Shatner repeats his corny actor routine brilliantly, and Carrell's manic squirrel gag is hilarious (even if it is lifted from Hoodwinked).

There are several amusing highlights, from the moment the scruffy stranger introduces these naive animals to the delights of the sugar rush to the genuinely exciting action climax. The songs are surprisingly bland--nicely performed by Ben Folds, but perhaps the filmmakers could have gone for something funkier. Fortunately, there's plenty of snappy writing and direction, funny and realistically menacing with outrageous visual inventiveness. It's a cracking adventure, with animation that's worth seeing on the big screen before it's added to the home collection.
| | | |
| --- | --- | --- |
| | some suspense | 16.May.06 |


Donna R Carter, Wisconsin: "A cute, funny animated film, similar to, but I thought better than Chicken Little. The characters had similarities to other animated feature films, but still were fun personalities. I felt the animation on the people was lacking, but the animals were fun. Truth be told, some of the animal characters reminded me of people I know in real life - and I don't mean actors - to the extent that it was rather distracting at times, which (to me) made it even more humorous." (21.Aug.06)