R E V I E W B Y R I C H C L I N E
dir Gil Kenan
scr Dan Harmon, Rob Schrab, Pamela Pettler
voices Mitchel Musso, Sam Lerner, Spencer Locke, Steve Buscemi, Kathleen Turner, Maggie Gyllenhaal, Jon Heder, Jason Lee, Catherine O'Hara, Fred Willard, Kevin James, Nick Cannon
release US 21.Jul.06, UK 11.Aug.06
06/US Sony 1h31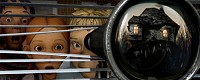 Pesky kids: DJ, Jenny and Chowder (above) watch; Nebbercracker (below) menaces another tyke.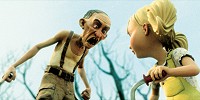 The involvement of Steven Spielberg and Robert Zemeckis as producers shows, as this is one of the most inventive, groundbreaking and engaging animated features in ages.

DJ (voiced by Musso) is keeping an eye on the house across the street, where cranky Mr Nebbercracker (Buscemi) confiscates anything that lands in his front yard. With his parents (O'Hara and Willard) away for the Halloween weekend, and an oblivious babysitter (Gyllenhaal) in residence, DJ and his pal Chowder (Lerner), plus plucky door-to-door candy entrepreneur Jenny (Locke), decide to get to the bottom of the matter. Especially when the creepy house comes to life and starts chomping on anyone who goes near it.

It's a terrific story, with shades of Roald Dahl in its willingness to get well and truly nasty, something kids will thoroughly enjoy. And it may scare the grown-ups a little as well, as this is an expertly staged thriller--bold and energetic, full of vibrant characters and sharp wit. That it's animated is almost beside the point. Well, it would be if it weren't so eye-poppingly amazing to look at. This is a massive step forward in 3D imagery, filled with telling details that create an intriguing realism within the stylised settings and characters. It sometimes feels like it was filmed with a handheld camera; at other times it looks like Aardman-style stop-motion.

And there's not a single dull moment. The engaging characters are voiced with spark and impeccable timing that's matched hilariously by the nimble animation. The comedy veers from edgy and black to silly and sweet, with terrific side characters like Lee's stoner, Heder's gamer, Turner's crabby "housewife" and a pair of unforgettable small-town cops (James and Cannon).

Meanwhile, the plot rockets along, plunging us into scenes that are loaded with high adventure, dark drama and freak-out terror. After the initial mayhem, entering the house with the kids it's a truly harrowing experience that skilfully sets up the outrageous final sequence. It's probably far too frightening for very young children; but give them some time and they'll love it almost as much as their parents.
| | | |
| --- | --- | --- |
| | themes, suspense, violence, vulgarity | 16.Jul.06 |


Richard Faber, vero beach florida:

"this was a good movie.i know a few theatres had rhis movie in 3d.too bad more theatres didn't have it.the effects were really good." (23.Jul.06)

Vance, Des Moines:

"Truly a delight! Sensationally scary story that works like a Poltergeist/Jimmy Neutron/Goonies hybrid! I'm ready for a sequel!" (24.Jul.06)