R E V I E W B Y R I C H C L I N E
dir Clint Eastwood
scr Iris Yamashita
with Ken Watanabe, Kazunari Ninomiya, Tsuyoshi Ihara, Ryo Kase, Shido Nakamura, Hiroshi Watanabe, Takumi Bando, Yuki Matsuzaki, Takashi Yamaguchi, Eijiro Ozaki, Nae Yuuki, Lucas Elliott
release US 20.Dec.06,
UK 23.Feb.07
06/US DreamWorks 2h21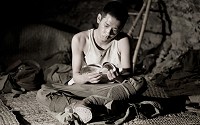 Writing home: Ninomiya


---
See also:
FLAGS OF OUR FATHERS
---

Clint Eastwood's companion piece to Flags of Our Fathers is a much more intimate, harrowing and resonant look at the personal effects of war. It's a strikingly well-made film that states its case subtly and without compromise.

General Kuribayashi (Watanabe) is the new commander of the troops stationed on Iwo Jima. He knows the Americans are on their way, and that the strained Japanese high command can offer little help. Basically, they're all going to die, but the general encourages the men to stand their ground to the end. Over the next few days he encounters, three times, the young soldier Saigo (Ninomiya), who's trying to do his job but unable to stop thinking about his wife (Yuuki) back home and the new daughter he's never met. Maybe surrender is a better option.

This two-pronged story is intensely gripping, examining the battle from the top and bottom ranks with sharply defined characters and extremely strong performances from both actors. The soldiers around them are equally well-defined, especially Nishi (Ihara), an Olympic champion who knows the Americans better than anyone except perhaps Kuribayashi; Shimizu (Kase), a humourless foot soldier with a misleading tough-guy pedigree; and Lieutenant Ito (Nakamura), a cocky hothead with delusions of glory.

Eastwood directs this with a stark simplicity, never over-egging the story. Where Flags of Our Fathers indulges in sentimentality and rah-rah Americana, this restrained, edgy film finds a much stronger sense of private drama and complex heroism. And it's beautifully revealed through Tom Stern's starkly near-monochrome cinematography (only reds and oranges register as colours) and a superbly spare score by Kyle Eastwood and Michael Stevens.

This is essentially an examination of the nature of honour--personal and national--and the brutal conclusion is that there is absolutely no honour in war. It also dares to show both Japanese and American forces in all their complexity, both kind and monstrous. Like with the other film, Eastwood maintains a specific point of view, showing a group of likeable men battling a largely faceless enemy. And as they communicate their experiences in letters to their families, the film reveals some scary truths about humanity. And gives us some hope as well.
| | | |
| --- | --- | --- |
| | themes, strong violence | 15.Dec.06 |