R E V I E W B Y R I C H C L I N E
dir Menhaj Huda
scr Noel Clarke
with Aml Ameen, Red Madrell, Noel Clarke, Jamie Winstone, Adam Deacon, Femi Oyeniran, Rafe Spall, Nicholas Hoult, Stephen Da Costa, Madeleine Fairley, Kate Magowan, Cornell John
release UK 3.Mar.06
06/UK 1h29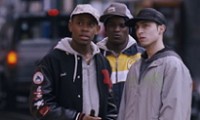 Outon the town: The boys (Ameen, Oyeniran and Deacon, above) and the girls (Madrell and Winstone)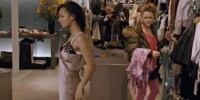 ---
See also:
ADULTHOOD (2008)

The mean streets of teenage London are the setting for this gritty drama. While based on the headlines, the film is rather overwrought, compressing every conceivable horror into 24 hours in the life of a handful of kids.

After a bullied student commits suicide, school's out for a day and the students roam on their own. Trife (Ameen) is a 15-year-old with two sidekicks (Deacon and Oyeniran) and an ex-girlfriend Alisa (Madrell) who might be pregnant with his baby. Or it could be the child of the school bully (Clarke). Trife and pals are tempted to join the drug-dealing, gun-slinging gangsta lifestyle; Alisa and her friend (Winstone) are on a sex and drugs odyssey of their own; and the dead girl's brother (Spall) is out for revenge.

There are lots of tangled, intricate relationships and connections, and the script is fairly adept at keeping them all straight. Although this self-contained structure feels somewhat artificial at times. As do the strained attempts to make everyone look and sound street tough. Some of the cast makes this kind of dialog work, while others struggle badly with it. But overall, director Huda keeps things feeling urgent and realistic.

The main problem is the way every issue is loaded into the story--guns and knives, sex and teen pregnancy, drugs and violence, bullying and suicide, plus of course utterly useless parents. Watching these kids swagger through the streets on their opportunistic crime sprees is quite shocking. It's authentic but also exaggerated in the way everything is wedged into such a limited number of teens over such a short timescale.

The quality of production is high, and the film looks extremely natural. The most bracing aspect is the way the filmmakers have captured the severe lack of respect among these young people--there's no code of honour, no sense of loyalty, no understanding that there are opportunities for positive actions. As a result, it's impossible to root for anyone, and as the plot builds to the climactic party it drags badly. By the time it tries to become an impassioned teen love story, it's already lost us.
| | | |
| --- | --- | --- |
| | themes, language, violence, drugs, sexuality | 18.Jan.06 |


tuala kiernan, crodon purley:

"dis film is sick blud, nuf love 4 dem manz hu made our struggle known to da world!" (28.Mar.06)

fire, stevenage:

"safe film, one of da best films ive eva seen! completely gangsta!" (22.May.06)
Ecko, London:

"The film was good it was scary in a way because it was a bit like my life bang bang London." (19.Jun.06)