R E V I E W B Y R I C H C L I N E
dir James Wong
scr Glen Morgan, James Wong
with Mary Elizabeth Winstead, Ryan Merriman, Kris Lemche, Amanda Crew, Sam Easton, Alexz Johnson, Jesse Moss, Gina Holden, Texas Battle, Chelan Simmons, Crystal Lowe, Maggie Ma
release US/UK 10.Feb.06
06/US New Line 1h55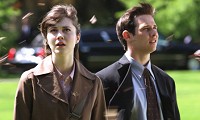 Rollercoaster of Love: Winstead and Merriman (above); Moss and Holden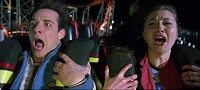 See also:
FINAL DESTINATION (2000)
FINAL DESTINATION 2 (2003)
THE FINAL DESTINATION (2009)
FINAL DESTINATION 5 (2011)


The good news is that there are some strong jolts and twists in this third instalment in the now-ironically titled blackly comical horror series. Although there's nothing particularly new.

Just as she and her classmates are about to board an outrageous rollercoaster, Wendy (Winstead) has a horrific premonition. A few get off in the confusion; the rest, including Wendy's boyfriend (Moss) and best pal (Holden) die. Then death, in the form of cause-and-effect freak accidents, stalks the survivors one by one. Wendy and her pal's boyfriend Kevin (Merriman), according to the now-established legend, will be the last to die unless they can break the chain.

By now the plot merely exists to give the story some vague notion of structure and to add a shade of meaning to the characters. The main point is to have ever-more complicated and witty set pieces, as we see tiny details adding up in increasingly outrageous ways, ending with a shock moment of gore when we don't expect it. The filmmakers are gleefully playing with expectations this time, piling on red herrings and generally having a great time coming up with even more hilariously horrible scenarios.

Like the plot, the cast is fairly dispensable (!), but at least these actors invest subtext into their characters, especially Winstead and Merriman, who realistically portray Wendy and Kevin's reluctant journey from animosity to reliance. Otherwise it's the usual assortment of high school nerds, freaks, jocks and sluts. But they're engagingly funny, and we almost cheer each on to his or her grisly doom, played out with a perfect balance of dark hilarity and gruesome suspense.

Wong directs with a slick attention to detail and a wonderfully deranged sense of humour, especially when it comes to picking songs for the soundtrack. It looks terrific, and is superbly well-paced. The rollercoaster sequence is astonishingly gripping, as are the other set pieces, including an outrageous final coda. Although it's only more of the same thing. With inventive ideas like this, the series can clearly run and run. But they really need to take it to another level now.
| | | |
| --- | --- | --- |
| | themes, language, violence, gore | 7.Feb.06 |