R E V I E W B Y R I C H C L I N E
dir-scr Rian Johnson
with Joseph Gordon-Levitt, Nora Zehetner, Lukas Haas, Noah Fleiss, Matt O'Leary, Emilie de Ravin, Noah Segan, Richard Roundtree, Meagan Good, Brian J White, Jonathan Cauff, Reedy Gibbs
release US 31.Mar.06,
UK 12.May.06
06/US Focus 1h50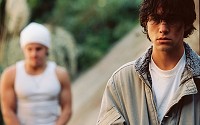 On my tail: Fleiss and Gordon-Levitt




First-time filmmaker Johnson intriguingly combines film noir with the American teen drama to create something truly engaging. Besides being almost pathologically gripping, it also redefines both genres in the process.

Brendan (Gordon-Levitt) is a troubled teen who stumbles into a yawning mystery when his ex-girlfriend (de Ravin) makes a cry for help. But it's not remotely straightforward, and as he traces the strands of the whodunit with the help of his brainy friend (O'Leary), he encounters a seductive femme fatale (Zehetner), a dim-witted thug (Fleiss) and a dealer (Haas) whose mom serves juice and cookies at their big meeting. It all involves a hidden body and a lost brick of heroin. But can Brendan get to the bottom of things?

Despite the standard suburban high school settings, the dialog comes straight from Raymond Chandler or James Ellroy, with aloof references and beat-poetic conversations that aren't always easy to follow. But it doesn't matter, since the complex central mystery unravels in an intelligent, intelligible style, and the characters spring to life with drama and emotion.

The film is funny, scary and profoundly emotive, discovering a fresh take on both noir murkiness and teen angst in the process. And the cast bring these people to life with remarkable clarity, while maintaining a slightly otherworldly tone that's surprisingly appropriate. All sorts of memorable moments are cleverly staged and played with perfect timing.

Gordon-Levitt delivers another terrific performance as a teen with all sorts of demons, trying to solve a terrible mystery that will probably make his life even worse. Although it might at least explain one thing. The characters swirling around him are colourful and quirky, brilliantly played with hints of the adolescent inside them and sharply directed by Johnson to highlight both irony and humour.

In the end, the story takes a back seat to the film's overwhelming style. So it's not quite as involving as it might have been--slightly swamped by the intricate plotting and characterisations, leaving us to enjoy the twisted, trickiness rather than feel Brendan's anguish and/or catharsis. That's a small complaint though, for a film this bracingly original.
| | | |
| --- | --- | --- |
| | themes, violence, language, drugs | 22.Apr.06 |