R E V I E W B Y R I C H C L I N E
dir Luc Besson
scr Luc Besson, Céline Garcia
with Freddie Highmore, Mia Farrow, Ron Crawford, Adam LeFevre
voices Madonna, Robert De Niro, Jimmy Fallon, David Bowie, Harvey Keitel, Snoop Dogg, Emilio Estevez, Chazz Palminteri
release Fr 29.Nov.06,
US 15.Dec.06, UK 2.Feb.07
06/France Weinstein 1h42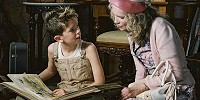 Bedtime story: Highmore and Farrow (above); Betameche, Arthur and Selenia (below)





Luc Besson takes on Hollywood's kids-movie dominance with this eye-catching adventure that ambitiously mixes animation and live action. It's a fascinating tale, but the film's far too chaotic to grab hold.

Arthur (Highmore) lives on an isolated New England farm with his grandmother (Farrow). Grandfather (Crawford) has been missing for three years, and they really need him, and his hidden treasure, since a businessman (LeFevre) is about to take the farm. So Arthur follows Grandfather's trail to the world of the ant-sized Minimoys who live under the grass. There, Arthur joins with the arrogant Princess Selenia (voiced by Madonna) and her enthusiastic brother Betameche (Fallon) to find Grandfather and help the King (De Niro) survive an insidious attack from the villainous Maltazard (Bowie).

Children will love the concept of this nearby micro-universe, which Besson brings to life with an astounding visual style that combines motion-capture, miniatures and beautifully textured animation. And the live-action sequences also look great, with a magical recreation of 1960 America and slightly over-emotional performances. But this goes on too long, with far too much complicated plot information.

In the animated half of the film, the visuals are so superbly detailed that we really want to have a look at them, but the "camera" never stops moving. We can't quite get a sense of the settings or the action sequences, and then there's even more expository dialog. This is especially frustrating since the character animation and much of the voice work is so strong--we would like to get involved with these adventures, but it's far too fragmented.

Several parts of the narrative don't gel, feeling designed simply to look cool or sound funny, rather than to propel the story or give a sense of character. And many elements are borrowed from other mythologies, such as a sword inexplicably stuck in a stone. This is a surprising misfire from Besson, who has clearly invested time and a lot of gifted crew members in this project. But the film is so messily constructed that we can never just sit back and enjoy it.
| | | |
| --- | --- | --- |
| | themes, violence | 10.Dec.06 |


javier delgado, Mexico:

"My family was hooked, we wanted to see much more and we are waiting for the sequels. but I saw the full film in Mexico, while english language critics and US viewers saw the Weinstein cut, which tried to get rid of the parts that seemed inappropiate for kids. This turns a tender love story into a bland and chaotic thing that the best animation can not survive. The voice of Madonna seems to distract english speaking people from the love story of the princess and the boy, who are about the same age in the movie. So the Weinsteins tried to cut the love story, but were not entirely succesful, because the French animators managed to convey the feelings of the characters. I hope viewers give it a second chance, get the international DVD release and enjoy. Not a great work of art, but an enduring film that stands on its own as the biggest french animation project to date." (25.Aug.07)