R E V I E W B Y R I C H C L I N E
dir-scr Roger Donaldson
with Anthony Hopkins, Diane Ladd, Chris Williams, Paul Rodriguez, Christopher Lawford, Bruce Greenwood, Jessica Cauffiel, Annie Whittle, Aaron Murphy, Patrick Flueger, William Lucking, Walt Goggins
release NZ 13.Oct.05, US 9.Dec.05, UK 10.Mar.06
05/New Zealand 2h07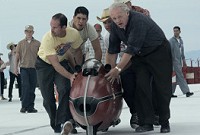 On your marks: Hopkins and crew




This true story is gripping, but the film is far too heartwarming for its own good, featuring extremely picturesque production design and an engagingly grizzled/bumbling performance from Hopkins.

At the southern tip of mid-1960s New Zealand, Burt Munro (Hopkins) is the neighbourhood eccentric, always working on his old motorbike, an Indian, and indulging in friendly/bizarre antics, including races on the beach. He's saving his pennies for a trip to the Bonneville Saltflats in Utah for Speed Week. He of course finally gets there, after a raucous sea journey and colourful interludes in Hollywood and the American west. But can he convince the officials to let him race?

The film combines two genres--triumphing underdog and road movie--which are involving and entertaining, albeit rather predictable. Since this is a true story, you pretty much know where it must be heading. And the road movie aspect feels episodic and contrived, but allows for amiable adventures and starry cameos. The most fun is in Burt's California sojourn, during which he unflappably discovers road traffic, American accents, panhandlers, a used car dealer (Rodriguez), a vibrating bed and a cross-dressing hotel clerk (Williams).

Hopkins is fine in this role, which isn't terribly demanding but looks like a lot of fun. His two romantic interludes (with Whittle back home and Ladd on the road) are sweet, as is his interaction with the little boy next door (Murphy) and the racers and officials in Utah. Writer-director Donaldson keeps everything extremely naturalistic, making sure the actors and cinematography remain authentic and understated.

As a result, the film has the tone of one of those heartwarming family classics--bright and skilful filmmaking with warmly comical under-currents and a recreation of the period that's so convincing that we feel like we're watching a vintage 1960s adventure movie. The central plot is standard overcoming-adversity stuff, as Burt faces one obstacle after another (including a tragic past) with steady tenacity. It's beautifully filmed and full of inspiration, and it's also far too easy and edgeless to ever challenge us. But when Burt cuts loose on his bike, it's genuinely thrilling stuff.
| | | |
| --- | --- | --- |
| | themes, language, some grisliness | 6.Dec.05 |