R E V I E W B Y R I C H C L I N E
dir-scr Guy Ritchie
with Jason Statham, Ray Liotta, André Benjamin, Vincent Pastore, Mark Strong, Terence Maynard, Andrew Howard, Francesca Annis, Anjela Lauren Smith, Elana Binysh, Tom Wu, Vincent Riotta
release UK 22.Sep.05,
US 26.Jan.06
05/UK 1h55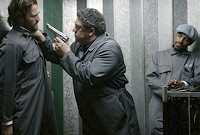 CAPTION: Statham, Pastore and Benjamin



---
See also: Q&A WITH GUY RITCHIE AND JASON STATHAM
---

After the critical mauling that greeted Swept Away, Ritchie retreated back to gangsters. But this is slicker and moodier than Lock Stock or Snatch. And while it starts intriguingly, it unravels into incoherent confusion.

Just out of prison, conman Jake Green (Statham) is renewing his antagonism with crime boss Macha (Liotta). But after winning big, his life is in jeopardy--both from an army of goons and a strange blood disease. Rescued by two mysterious loan sharks (Benjamin and Pastore), he begins a limbo-like existence just to survive. Macha sends ace hitman Sorter (Strong) to clean up the mess. But everyone must deal with serious internal demons, and no one's sure who the enemy is.

So far, so good. As the film develops its tantalisingly introspective approach, we begin to wonder what's real right along with the characters. This is done in lush cinematic style; Ritchie gives it a gorgeous sheen, edits with an askance wit, and allows the cast to create clever characters. Liotta, especially, acts his socks off, often wearing no socks at all, or much else for that matter.

The first red flags are the borrowed styles--Scorsese's operatic excess and mafioso grit, Tarantino's chaotic violence and bits of (pointless) anime, Fincher's hypnotic questioning of reality. These are signature elements that are clichés if you don't invent them. Then just when the plot really needs to begin coming together, it actually starts diffusing into varying points of view, confusing sequences, conflicted monologues and extended existential angst.

There are some terrific moments and hilariously deranged characters, plus an interesting idea about people being squeezed until they either burst or discover their real essence. But the running gags ($12 bills?) begin to grate. The voiceovers get increasingly murky and corny. The surreality becomes tedious. The repeated rules of the perfect con get deeply annoying. The over-serious tone becomes boring, pretentious and finally so indulgent that we can barely stand another minute of it. And yet it just keeps going. By the time we reach the final bloodbath, we're yawning. And when it arrives at its torturous, harsh ending, we just don't care.
| | | |
| --- | --- | --- |
| | themes, language, violence, nudity | 19.Sep.05 |


Fordsta-ski, Essex:

"All I can say is i am a fan of filmmakers who attempt to try something different for the commercial arena even if ultimately it doesn't work. But the idea is intriguing and the film is stylish and the director is British and that deserves credit. Though I am surprised Ritchie had that much control over the final edit. Maybe the producers didn't know if the actual film was real or not!" (28.Sep.05)

dave, leeds:

"if i could give this film a zero rating i would. this is without a doubt the worst film i have ever seen. believe me, save your money and dont bother with this tosh." (24.Oct.05)