R E V I E W B Y R I C H C L I N E
dir Susan Stroman
scr Mel Brooks, Thomas Meehan
with Nathan Lane, Matthew Broderick, Uma Thurman, Will Ferrell, Roger Bart, Gary Beach, Jon Lovitz, John Barrowman, Debra Monk, Andrea Martin, Fred Applegate, Brad Oscar
release US 16.Dec.05,
UK 26.Dec.05
05/US Universal-Columbia 2h20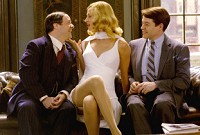 Ulla dance: Lane, Thurman and Broderick



"First it was a movie, then it was a Broadway musical. Now it's a Broadway musical movie. I think the next thing will probably be claymation." —Mel Brooks

Brooks and Stroman take an intriguingly stagy approach to putting this hit Broadway musical (based on Brooks' 1968 classic film) on the big screen. It takes a while to get used to filmmaking like this, but the energy and glee certainly win us over.

Max Bialystock (Lane) is a bad Broadway producer who gets an idea from his nervous accountant Leo Bloom (Broderick): with some creative accounting, they could make more from a flop than a hit. So they find the worst play imaginable (a musical called Springtime for Hitler, written by Ferrell's neo-Nazi nutcase) and the worst director in town (Beach's cross-dressing flouncer). Along the way, they hire leggy Swedish dancer Ulla (Thurman) as their secretary/lust object. And of course it doesn't remotely go as planned.

The filmmaking style is goofy and outrageous, with exactly the sets as on stage, and broad theatrical style acting that eliminates all subtlety. It's so much like watching a play that we want to burst into applause after each outrageously entertaining musical number. At the beginning we wonder if it can ever settle down, as we want more than Broderick's goony face-pulling and Lane's archly manic shouting. But then the characters begin to grow on us, the script's sharp wit begins to grab hold, and we find ourselves helplessly laughing along.

Broderick and Lane really warm up as we get to know them, and the people around them are riotously funny. Thurman and Ferrell are great, showing untapped song and dance skills, while Bart steals the show with the only cinema-style performance (that is, he adds tiny gestures and expressions that wouldn't work on stage). He's flat-out hysterical. And every musical number is a triumph of slapstick, satire and energetic silliness.

Fortunately, the high-energy approach works. The story gets increasingly raucous, the musical numbers get more complicated and the theatre references get sharper. And even if it's too long for a musical comedy, with several extra codas, we never want it to end. So stick around through the credits for even more, including Ferrell's priceless love-theme remix and a final production number.
| | | |
| --- | --- | --- |
| | themes, innuendo, language | 24.Nov.05 |