R E V I E W B Y R I C H C L I N E
dir Joe Wright
scr Deborah Moggach
with Keira Knightley, Matthew MacFadyen, Brenda Blethyn, Donald Sutherland, Rosamund Pike, Jena Malone, Tom Hollander, Judi Dench, Simon Woods, Rupert Friend, Kelly Reilly, Claudie Blakley
release UK 16.Sep.05,
US 23.Sep.05
05/UK Working Title 2h07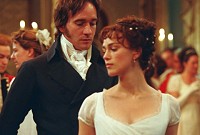 Shall we dance: MacFadyen and Knightley







Yes, it's yet another lavish adaptation of Jane Austen's classic novel, but at least these filmmakers make it properly cinematic, finely focussing the story while keeping it gritty and realistic. Viewers who compare it to another beloved version might be disappointed, but this is a superb film all its own.

Mrs Bennet (Blethyn) is at wit's end worrying over the future of her five eligible daughters. As it's 18th century England, marrying is especially important for girls from less-than-wealthy families. Mr Bennet (Sutherland), meanwhile, is at wit's end after living with six women for too long. The story's told through the eyes of second daughter Elizabeth (Knightley), who squares off against the sullen and apparently cruel, but very rich, Darcy (MacFadyen), and finds love when she least expects it.

The plot and characters are so familiar that it's a real trick to put it on screen in an original way, but cast and crew find new life in it. Wright films with prowling camerawork that explores the environment and keeps everything squarely in Elizabeth's perspective, giving the story a more personal impact. The superior design and costumes avoid flowery excesses in lieu of simple authenticity. And performances are excellent; Knightley is a revelation, giving her first multi-layered star performance, holding every scene with a mixture of wit and emotion, and developing a terrific low-burning chemistry with MacFadyen. Blethyn is a splendid bundle of nerves, Sutherland is wonderfully soulful, and Hollander shines in the comic-relief role as Collins. Dench even turns up to show off her expertly towering imperiousness.

Meanwhile, the script makes the most of Austen's iconic narrative and snappy dialog, leaving side characters on the side for a change and sharply highlighting class distinctions and desperate social situations. The Bennet girls' post-modern spirit may feel rather far ahead of their time, but this draws us in effectively, and the film's only false note is in the overwrought romantic climax, although even that is nicely internalised. So the nicest surprise is that the film is so delightfully entertaining that it sometimes makes us forget every other adaptation we've seen.
| | | |
| --- | --- | --- |
| | some adult themes | 13.Jul.05 |


Colin Lowther, Yorkshire: "We really enjoyed this. Wow, the photography and music were so good. Was that Deborah Moggach's first screenplay? Why doesn't someone make a decent movie of Wuthering Heights? Now that would be a challenge!" (26.Sep.05)

Michelle, Essex:

"A time old tale retold in a simple yet effective way. Bar Knightley, who I just didn't like, I really enjoyed the performances particularly from the older cast members. The scenery was beautiful as were all the costumes. A real feel good movie." (17.Oct.05)
Sara L Russell, West Sussex:

"I loved this movie - although it had to cram a very complex story into just 2hrs 20 minutes, it did so very well. Matthew Macfadyen's Mr Darcy was enigmatic at first, then increasingly more endearingly vulnerable as he plummetted into love with Miss Elizabeth Bennet. You really feel for him as Elizabeth (a feisty performance from Kiera Knightley) berates him with her sharp wit and fierce temper, in this love affair that almost ends in tears (his). Judi Dench was also superb as the terrifying Lady Catherine, and the whole thing was beautifully photographed, underpinned with sweet birdsong and soft piano music. The chemistry between Macfadyen and Knightley was breathtaking!" (20.Oct.05)

Donna Carter, Wisconsin: "Very Enjoyable. Keira Knightley, who I don't usually like, was really good in this role. I didn't feel like I was watching her acting the part (which has been my beef with her) This time, her own personality didn't seem to interrupt the character at all. I really enjoyed Matthew Macfadyen as Darcy much better than I did Colin Firth in the same role a few years back. This was a great rendition of Jane Austen's novel." (27.Nov.05)