R E V I E W B Y R I C H C L I N E
dir Robert Heath
scr Rob Churchill, Bob McCabe
with Henry Goodman, Julianne White, Neil Stuke, Costa Milton, Peter Gevisser, Bo Peterson, Rolanda Marais, Jeremy Crutchley, Robyn Scott, Hakeem Kae-Kazim, Alex Zorbas, Andre Jacobs
release UK 14.Oct.05
04/UK 1h38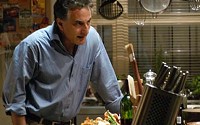 Pressure cooking: Goodman (above); Crutchley, Peterson, Gevisser and Marais (below).

CAPE TOWN FILM FEST
Winner Best Comedy:
WINE COUNTRY FILM FESTIVAL

There's a scruffy charm to this British comedy that wins us over despite the rather uneven script, which tries to juggle farcical humour with more intriguing social satire. It works about half of the time.

Felix Limb (Goodman) is a TV chef preparing for his traditional end-of-season dinner party when he finds out his show's been cancelled. His strained wife (White) is also running out of patience--even more so when his nympho assistant (Marais) arrives for dinner alongside a greedy producer (Gevisser), a shark-like editor (Peterson) and a pompous author (Crutchley). Then two kidnappers (Stuke and Milton) crash the party ... but they're at the wrong address. As a siege develops, everyone looks for what they can get out of the situation.

There's a knowing comedy in here that sharply jabs the entire media landscape, from money-oriented artists to grasping hangers-on to manipulative news outlets. And the film itself is gently hilarious--silly and goofy enough to make us laugh, but intelligent enough to keep us engaged. The main problem is that there's not a single truly likeable character. Perhaps this indicates that the performances are natural and clever, which they are, but all of these people are so deeply self-involved that they'll happily stab the person closest to them if it might mean a bit more money or fame. As a result, it's not easy to engage emotionally with any of the issues the film raises.

The script definitely has its moments, and somehow manages to squirm its way through the desperately contrived plot. There are some hilariously askew sequences that are genuinely witty, and there's also quite a bit of gorgeous-looking food (Felix isn't about to let a kidnapping spoil the contents of his fridge). As the story continues, the filmmakers inventively examine the varying stages of celebrity, although as a film it feels like it gets stuck in a rut. There's enough good stuff in here to make it worth seeing, but perhaps not enough to warrant a full-price cinema ticket.
| | | |
| --- | --- | --- |
| | themes, language, sexuality, some violence | 28.Jul.05 |