R E V I E W B Y R I C H C L I N E
dir Timur Bekmambetov
scr Timur Bekmambetov, Sergei Lukyanenko, Laeta Kalogridis
with Konstantin Khabensky, Vladimir Menshov, Viktor Verzhbitsky, Maria Poroshina, Dima Martynov, Galina Tunina, Alexei Chadov, Anna Dubrovskaya, Ilia Lagutenko, Valeri Zolotukhin, Rimma Markova, Alexei Maklakov
release Rus 8.Jul.04, UK 7.Oct.05
04/Russia Channel One 1h56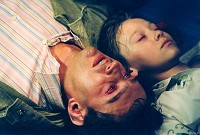 Who's your daddy? Khabensky and Martynov

---
DAY WATCH (2006)
---
KARLOVY VARY FILM FESTIVAL
CAMBRIDGE FILM FESTIVAL

Kazakh filmmaker Bekmambetov ambitiously brings to screen the first book in novelist Lukyanenko's otherworld trilogy, with a bracingly vivid sense of style and character. It's one of the most astonishing Russian films ever made--bewildering, abrasive, jarring and surprisingly emotional.

In 1992 Moscow, Anton (Khabensky) discovers his identity as an Other, a supernatural being who must choose between the forces of Light and Dark and take his role in the ongoing war. Twelve years later his actions as a member of the Light's Night Watch threaten to end a ceasefire; now he must track down an especially unlucky woman (Poroshina) and a young boy (Martynov) who's wandered into the fray. All while trying to maintain the truce between the leaders (Menshov and Verzhbitsky) and keeping an eye out for the promised Great Other.

There's an epic scope to the story, and Bekmambetov keeps the focus nicely on Anton, giving us visceral access to the chaotic stream of events. We feel everything because it affects Anton on such an overwhelmingly personal level. The cast makes these people into living, breathing beings--even the most outrageous characters have a vivid resonance that transcends the fantastical premise. Even Moscow looks amazingly gritty and cool, reminding us that the story is a witty, cynical, ironic metaphor for 21st century society. And it's also full of ingenious twists and details about vampires, shape-shifters, witches and the lot.

There has clearly been a huge effort to make the English-language adaptation much more interesting; subtitles are expressive and have a life of their own, refusing to just sit there like any normal Russian film. On the other hand, the film is so loud and dark and intense that it's almost impossible to keep up with it. We're constantly flung out of the narrative by convoluted explanations, jarring editing and cluttered imagery. In the end the sheer level of creativity and invention win us over. This is gob-smacking cinema! And it also brilliantly sets us up for the next two thirds of the tale.
| | | |
| --- | --- | --- |
| | themes, language, strong violence | 19.Jul.05 |


Nick L, Canada:

"Clever and displaying a hundred times more imagination than the average Hollywood flick, Night Watch is heavy on the mythology, light on the explanations sometimes, but it is never boring, mostly paced right and it ends leaving you definitely wanting more. Old themes are given a fresh slant, old stereotypes new details and it all becomes very, very human in the final stretch. A nice surprise." (30.Aug.05)