R E V I E W B Y R I C H C L I N E
dir John Stockwell
scr Matt Johnson
with Paul Walker, Jessica Alba, Scott Caan, Ashley Scott, Josh Brolin, Tyson Beckford, Dwayne Adway, James Frain, Chris Taloa, Gill Montie, Ramon Saunders, Zach Capetola
release US 30.Sep.05,
UK 21.Oct.05
05/US MGM 1h40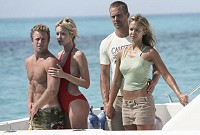 Risky business: Caan, Scott, Walker and Alba



There aren't nearly enough preposterous thrillers that involve gorgeous young stars wearing very little clothing. And this entertainingly silly underwater adventure is filmed with a lushness that puts them right in the middle of a National Geographic-type documentary about tropical reefs. Still, there are two disappointments: first, a seriously silly plot takes over and, second, it wasn't shot in Imax.

Jared and Sam (Walker and Alba) have a scruffy-happy life in the Bahamas. He's a dive instructor and part-time treasure hunter; she's a shark trainer at an ocean park. Then Jared's lawyer buddy Bryce (Caan) comes to visit with his girlfriend du jour (Scott), and on a snorkelling trip they find both a mythical shipwreck and a recently crashed airplane full of cocaine. But doing the right thing is a bit complicated, and soon they're running from thugs (Beckford and Frain), the local cop (Adway) and the competition (Brolin).

Stockwell clearly has a thing for youthful actors in swimwear (see Blue Crush), and he knows how to shoot them. This film is absolutely gorgeous to look at, in every sense of the word, really making the most of the tropical undersea setting and the physical fitness of the cast. Speaking of whom, the actors have very little to do besides looking sexy and young and excited at the prospect of unfathomable riches or sudden death. So they're fine, really. Extremely watchable and actually rather convincing in a way the plot never is.

The film is much more interesting when it's looking at the lives of 20-somethings struggling to make ends meet (note the creaky truck, leaky boat, hurricane ravaged beach shack) and to make the right decisions, or when it's concentrating on the dazzling sea, sky, sun, snorkelling and so much tanned skin that it sometimes feels like soft porn. Then the thriller plot kicks in: villains, cops and sharks--oh my! The dilemma is intriguing, but the way it plays out is just so ludicrous and formulaic, with action scenes directed in a far-too chaotic way, that we just long for more zany jet ski antics.
| | | |
| --- | --- | --- |
| | themes, violence, language, innuendo | 21.Jun.05 |


NB. The following isn't, strictly, a review...
Joe, Hawaii: "Yeah, Alba's still hot. I know that was a mindless comment. Barbaric, sexist, whatever. She's a good actress and there's been plenty of movies that should have never been made. So yep, I'll spend the money to see something that probably won't mean anything, but it's no different than some of the pointless things most people do anyway." (28.Sep.05)