R E V I E W B Y R I C H C L I N E
dir-scr Thomas Bezucha
with Diane Keaton, Sarah Jessica Parker, Dermot Mulroney, Claire Danes, Luke Wilson, Rachel McAdams, Craig T Nelson, Tyrone Giordano, Brian White, Elizabeth Reaser, Paul Schneider, Savannah Stehlin
release US/UK 16.Dec.05
05/US Fox 1h43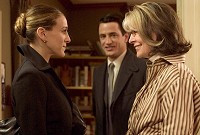 Meet the mother: Parker, Mulroney and Keaton



---
See also:
Q&A WITH DIANE KEATON
and SARAH JESSICA PARKER

---

As with most real-life families, relationships in this film are a combination of humour and emotion, usually both at the same time. Writer-director Bezucha deftly avoids stereotypes to bring us an entertaining and honest family comedy.

Sybil and Kelly Stone (Keaton and Nelson) have their five kids home in New England for Christmas. Eldest son Everett (Mulroney) brings his uptight new girlfriend (Parker), who doesn't gel with the Stones' bohemian liberalism, so she asks her sister (Danes) to join them. Earth mother Susan (Reaser) arrives pregnant, with her precocious daughter (Stehlin). Ben (Wilson) brings his hippy vibe with him from Berkeley. Thad (Giordano) has the most stable relationship--with partner Patrick (White). And Amy (McAdams) just can't let anything remain unsaid. It's going to be an eventful Christmas.

While the film has the lively energy of any wacky holiday comedy, there's a raw subtext that makes it much more than that--recognisable compassion and cruelty, isolation and physical intimacy, subtle liaisons and hard-to-surmount barriers. This is an astute examination of family relationships that brilliantly balances biting satire and warm affection. Bezucha clearly understands how relatives mean the world to us and also drive us crazy, and he slices through each scene with shrewd insight that actually takes us somewhere.

The characters maintain their complexity through fine writing and superior performances. Keaton can play this kind of role in her sleep, but even she's challenged by Sybil, and shines in several remarkable scenes. Everyone in this seamless cast has their moments; our lingering affection for Parker's tense New Yorker is a nice surprise, as are the tenderness that orbits Giordano's character and the telling cracks in McAdams' bravado.

In the end, the film perhaps won't tell us anything we don't already know. But that's not the point. The bookend scenes are startlingly distinct, yet exactly the same. The confrontations touch on everyday taboos like race, sexuality, illness and disability. In such a black comedy, the powerful surge of emotion catches us off guard. Maybe the point is that we're not so different after all: everyone's a mess, and that's not necessarily a bad thing.
| | | |
| --- | --- | --- |
| | themes, innuendo, language | 23.Nov.05 |