R E V I E W B Y R I C H C L I N E
dir Mike Bigelow
scr Rob Schneider, David Garrett, Jason Ward
with Rob Schneider, Eddie Griffin, Jeroen Krabbé, Hanna Verboom, Til Schweiger, Alex Dimitriades, Norm McDonald, Douglas Sills, Carlos Ponce, Charles Keating, Kelly Brook, Rachel Stevens
release US 12.Aug.05,
UK 30.Sep.05
05/US Columbia 1h23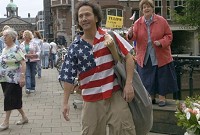 An American in Amsterdam: Schneider



See also: DEUCE BIGALOW,
MALE GIGOLO (1999)

The 1999 original was easily Schneider's best movie, so this sequel isn't too dreaded. And while it's still funnier than it has a right to be, it also sometimes tips over into the lame stupidity the first film somehow avoided.

Mourning the death of his new wife, fish-tank cleaner Deuce (Schneider) gets a call from his pimp friend TJ (Griffin), now living the high life in Amsterdam. He needs Deuce's help to catch a killer who's murdering "prostidudes". So off he goes, infiltrating the International Society of Man-whores, dodging the attentions of the detective (Krabbé) on the case, and still offering women what they really want: understanding, not sex.

The first film's engaging warmth is still here; Schneider plays Deuce as a likeable guy with a gift for putting people at ease, especially women with physical/psychological quirks. Griffin is amusingly hyperactive as his paranoid buddy. And Verboom provides the sweet romantic interest. Meanwhile, a parade of fine actors (Krabbé, Schweiger and Dimitriades), silly comics (McDonald and the requisite Adam Sandler cameo) and glamour girls (Brook and Stevens) clearly have a ball in various deeply ridiculous roles.

And we have fun too, laughing at some genuinely inspired comedy, cringing at the script's blatant attempts to be offensive and vulgar, and yawning through the incredibly bad storyline. It's much more uneven than Part 1, and there's a nasty streak of racist, sexist and homophobic humour running through it all. The genuinely affectionate overall tone seems to be saying that the filmmakers are just trying to be funny, not actually mean.

This doesn't quite wash, but it helps us bear with it until the next bit of inspired hilarity. It feels like the premise only exists as a framework for the jokes Schneider and pals have brainstormed since 1999--more female afflictions, male prostitute puns and zany sex euphemisms, plus poking fun at Europeans and Americans, and a few pointed Iraq War barbs. Basically, it's a series of jokes in search of a film. And there are worse ways to spend 83 minutes.
| | | |
| --- | --- | --- |
| | themes, vulgarity, language, some nudity | 16.Sep.05 |