R E V I E W B Y R I C H C L I N E
dir Tim Burton
scr John August
with Johnny Depp, Freddie Highmore, David Kelly, James Fox, Helena Bonham Carter, Noah Taylor, Missi Pyle, Deep Roy, Christopher Lee, Annasophia Robb, Julia Winter, Philip Wiegratz, Jordon Fry, Adam Godley, Franziska Troegner, Liz Smith
release US 15.Jul.05, UK 29.Jul.05
05/UK Warners 1h55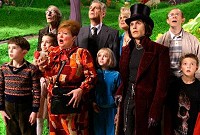 And it's tasty too: Visitors get a surprise inside Willy's factory




Like a 21st century Wizard of Oz, this inspired combination of Roald Dahl, Tim Burton and Johnny Depp is sheer magic, with a twisted, involving subtext that keeps it from being merely a goofy kids' movie. Yes, it's pretty hilarious, but it's also delightfully deranged in all the best ways.

Young Charlie Bucket (Highmore) lives in fairly picturesque poverty with his parents (Bonham Carter and Taylor) and grandparents in a leaky shack positioned in the shadow of the Wonka Chocolate Factory. Now after years of secrecy the mysterious Willy Wonka (Depp) is opening his factory for five lucky children: spoiled brat Veruca Salt (Winter), high-achiever Violet Beauregarde (Robb), chocoholic Augustus Gloop (Wiegratz), videogame addict Mike Teavee (Fry) and of course Charlie. They really could never imagine what they'll see and experience inside.

While the film's structure is a bit rigid (the set-up is a Burton-meets-Dickens cliche, the factory tour is too episodic), the outpouring of sheer imagination and moviemaking skill is thoroughly jaw-dropping. Every scene looks gorgeous, with a playful approach to design and effects that constantly surprises us. But it's not an empty spectacle; the design is in constant service to the fanciful story and vivid characters. And it especially lives in Depp's marvellously warped performance as the untrustworthy child-man with a tortured past (cue another outrageous flashback). Highmore is terrific if a bit underused. And the supporting cast adds perfectly pitched notes to every scene, often with just a widening of the eyes.

This is the kind of densely packed comedy that keeps adults' attention even while amazing the young ones. Film references, witty asides, running gags and both audio and visual jokes abound. Elfman's score is terrific, as are his imaginative stagings of Dahl's songs, although it's annoyingly difficult to catch the lyrics. Roy gives an amusing and, literally, multi-layered performance as all the Oompa Loompas. Dahl's blend of humour and horror balances perfectly. And there's enough subtext (before the cloying "Family Is Everything" message) to add some real meaning along the way. So much fun you just want to eat it.
| | | |
| --- | --- | --- |
| | themes, suspense | 10.Jul.05 |