R E V I E W B Y R I C H C L I N E
dir John Henderson
scr John Henderson, Richard Matthews, Neville Watchurst
with Oliver Golding, James Cosmo, Gina McKee, Greg Wise, Sean Pertwee, Ronald Pickup, Ardal O'Hanlon, Kirsty Mitchell, Christie Mitchell, Thomas Lockyer, Christopher Lee, Ian Richardson
release UK 10.Feb.06
05/UK 1h43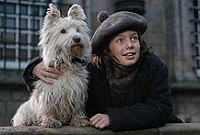 A boy's best friend: Bobby and Golding



Official Selection:
LONDON CHILDREN'S FILM FEST
SAN DIEGO CHILDREN'S FILM FEST

Based on a true story, this doggy adventure is shamelessly sweet and far too corny for its own good. It's an involving story with a strong cast, but the awww factor means it'll connect only with very young viewers.

Bobby is the loyal terrier who accompanies Constable John Grey (Lockyer) on his rounds in 1858 Edinburgh, rescuing people, challenging runaway bulls and so on. When John is killed in action, Bobby camps out on his grave in Greyfriars Cemetery, and is adopted by young Ewan (Golding), the graveyard caretaker (Cosmo), the local minister (Wise) and, well, the entire city. But a couple of Scrooge-like evil businessmen (Pertwee and Pickup) imprison Ewan in a workhouse and plot Bobby's demise.

Director-cowriter Henderson brings a sepia-toned warmth to the film--it looks like a fairy tale set amid Edinburgh's castles and turrets, and it plays out like one of those 1950s Disney adventures in which nothing is remotely believable, even though it's inspired by real events. Much of the plot and dialog is hackneyed--most notably the need for such relentless villains, who have no reason at all to be so determined to destroy Bobby. And a lot of the filmmaking is just silly, from cliched costumes to eye-rolling performances.

The screenplay never really establishes any of the relationships--they're simply written into existence without any purpose or meaning. Why does John bequeath the dog to Ewan? Why doesn't John's widow (the underused McKee) have a clue what's going on? Why do the powers that be all seem to be demon-possessed in their fierce efforts to kill all the sweet little doggies? Why does the Lord Provost (Lee) suddenly become so involved? And the screenwriters add several moments of magical realism to get them out of plot dead-ends.

There are moments of high adventure here and there, although Henderson never makes it very thrilling, preferring instead to add another cheesy cutaway and crank up the schmaltz. But there's the thread of a strong story here, so children will probably love it. Everyone else will groan.
| | | |
| --- | --- | --- |
| | themes, suspense, some violence | 19.Dec.05 |