R E V I E W B Y R I C H C L I N E
dir Robert Luketic
scr Victor Levin
with Kate Bosworth, Topher Grace, Josh Duhamel, Ginnifer Goodwin, Nathan Lane, Sean Hayes, Gary Cole, Stephen Tobolowsky, Amy Smart, Octavia Spencer, Kathryn Hahn, Jay Underwood
release US 23.Jan.04; UK 23.Apr.04
DreamWorks
04/US 1h35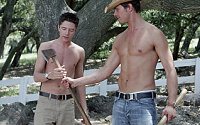 May the best man win: Grace and Duhamel (above); Goodwin and Bosworth (below)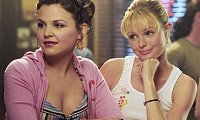 From the director of Legally Blonde, here's another entertaining and undemanding high-concept comedy that keeps us laughing but never says anything new at all. In small-town in West Virginia, Pete (Grace) is a low-level manager at the local Piggly Wiggly supermarket with a secret crush on his coworker Rosalee (Bosworth). But Rosalee and her pal Cathy (Goodwin) have a not-so-secret passion for movie star pin-up Tad Hamilton (Duhamel), who's just launched a win-a-date contest to try to reconnect with Middle America. Surprise: Rosalee is whisked off to Hollywood for the night of her dreams, with Pete's warning to "guard your carnal treasure" ringing in her ears. Unsurprisingly, Tad is quickly won over by Rosalee's simple charm, so he moves to West Virginia to try to recapture his own innocence. And to compete with Pete for Rosalee's hand.

Director Luketic and writer Levin have a great time poking gentle fun at the two extremes in society--rural naivete and jet-set sophistication. Of course, both the hokum and slickness are misleading, and neither group has a clue how the other half lives, so it's a culture clash ripe for comic picking. No, there's nothing remotely original, but at least the film's well enough written to keep us laughing, with just enough moments of sharp humour and engaging sweetness to keep us engaged.

The performances are very good, as each character struggles with their own insecurities while trying to keep anyone from noticing. And the best bits are when shameless scene-stealers Lane and Hayes are on screen as Tad's managers (both named Richard Levy). All of the funny moments are character based, and it's rather interesting that in the end Tad comes across as almost too beautiful and nice, while Pete is so annoyingly clingy that he's barely likable ... and yet of course the final message has to be Hollywood bad, small town good. So all credit to the cast and crew that we somehow buy into it all, even though it's deeply corny, thoroughly predictable and only barely funny and charming enough to win us over.
| | | |
| --- | --- | --- |
| | themes, innuendo | 29.Mar.04 |