R E V I E W B Y R I C H C L I N E
dir Mira Nair
scr Matthew Faulk, Mark Skeet, Julian Fellowes
with Reese Witherspoon, James Purefoy, Romola Garai, Rhys Ifans, Jim Broadbent, Jonathan Rhys Meyers, Eileen Atkins, Gabriel Byrne, Bob Hoskins, Geraldine McEwan, Ruth Sheen, Tony Maudsley, Douglas Hodge, Natasha Little, Tom Sturridge, Kathryn Drysdale
release US 1.Sep.04, UK 14.Jan.05
Focus
04/UK 2h17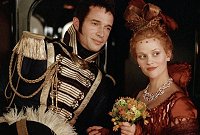 High society: Purefoy and Witherspoon




Adapting Thackeray's sprawling romp couldn't have been easy, but even after paring it down, this film crams far too much in. And in the process sacrifices the emotional heart of the story.

Becky Sharp (Witherspoon) is a fiercely clever girl born two centuries too early. As a low-born orphan in 1802 all she can do is become a governess and hope, against society's rules, to marry well. She falls in love and marries the respectable Rawdon Crawley (Purefoy), only to have his family cut him off. So she must use her considerable wits to get by. Meanwhile, her childhood friend Amelia (Garai) is in love with the vain soldier Osborne (Meyers), while his pal Dobbin (Ifans) secretly loves her.

Acres of characters come in and out of Becky's life, each with his or her own subplot, but the film focuses on these two central romances. Becky's life is straight from a 19th century novel--tragic and difficult and raucous and romantic; while Amelia's story seems like a more contemporary love triangle with dreadful period twists (such as father-in-law Broadbent's Dickensian cruelty). Witherspoon carries the film with a striking combination of gleeful intelligence, voracious sex appeal and deeply hidden emotion. Garai struggles as the bewildered Amelia; Ifans gives the film's best performance as the lovelorn Dobbin; and Atkins steals every scene as the hilariously outspoken Aunt Mathilda.

Nair orchestrates it with energy and colour. It's not a monochrome period piece about bleak old Britain, this film snaps with brightness and life, while never forgetting the horrible social snobbery and convoluted politics. She's obviously going for a full-on epic here, bringing in her Indian heritage with imperialistic touches that include several somewhat contrived scenes set in India and even a full-on Bollywood number. The script is extremely sharp and witty ("She's not a social climber, she's a mountaineer!"), and yet even though the central stories are compelling, dividing the film between them means we never have anyone to grab hold of. It ends up cold and aloof--we watch it and enjoy it, but we can't feel for anyone.
| | | |
| --- | --- | --- |
| | themes, some violence | 1.Oct.04 |