R E V I E W B Y R I C H C L I N E
dir Yoji Yamada
scr Yoshitaka Asama, Yoji Yamada
with Hiroyuki Sanada, Rie Miyazawa, Miki Ito, Erina Hashiguchi, Nenji Kobayashi, Ren Osugi, Mitsuro Fukikoshi, Min Tanaka, Hiroshi Kanbe, Tetsuro Tamba, Kanako Fukaura, Reiko Kusamura
release Japan 2.Nov.02, UK 14.Apr.04
02/Japan 2h09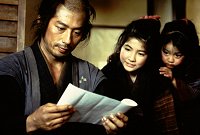 Is he being too noble? Sanada with Ito and Hashiguchi (above), and with Miyazawa (below).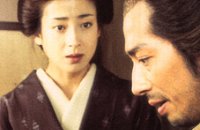 • TOP 5 FILM

---
See also:
THE HIDDEN BLADE (2004)
LOVE AND HONOUR (2006)
Nominated for the foreign-language Oscar, this is quite simply one of the most beautiful period films in recent memory, made with no pretension or overstatement to tell a deeply personal story. It's also a superior samurai movie, getting well under the skin to open up the culture and lifestyle of 19th century Japan.

Seibei Iguchi (Sanada) is a low-ranking, office-bound samurai struggling to cope after his wife's death. He would much rather spend time with his two young daughters (Ito and Hashiguchi) than with his coworkers, which earns him the nickname "Twilight", because he always wants to be home before dark. One day he learns that a childhood friend Tomoe (Miyazawa) is now divorced from her drunken lout husband (Osugi). But even after renewing their friendship Seibei is almost criminally modest, feeling unworthy of Tomoe's affections. Then Seibei gets a chance for a promotion, but it will involve a physical duel with a rebellious clan member (Tanaka). Something else he feels deeply unqualified for.

Everything about this film is perfect, from the complex, involving storyline to the skills of the filmmakers, who somehow recreate the period without it ever looking like costumes or a movie set. Director-cowriter Yamada draws profoundly introspective performances that never scream of movie stardom or acting histrionics. The romantic plotline is remarkably unaffected--twisty and unpredictable, conveying as much about the setting as about the people involved. And the two fight sequences are astonishingly fast, edgy and seemingly unchoreographed. We are completely transported to this time and place.

And Sanada gives a masterful but seemingly effortless performance, blending the strong intensity he showed as Tom Cruise's nemesis in The Last Samurai with a profoundly humane personality full of warmth and humour. Even his flaws are realistic ... and integral to the story. As we get to know this reluctant hero, who can't even be bothered to shave his face or head like a normal samurai, we feel his soulful passion for his family. And along with him we weigh up his talents against a lack of ambition that might not be a bad thing. Placed next to The Last Samurai, which is set in the same time period, there's simply no comparison. This is a masterpiece.
| | | |
| --- | --- | --- |
| | themes, violence | 9.Mar.04 |

Pyromania, Cambridge:

"One of the most spell-binding movies of all times. Don't expect spectacular fight scenes or special effects. Simply prepare to be enchanted by a world long gone with values that should seem completely foreign yet with a humanity that cuts like a katana." (26.Apr.04)

Ken Jeffries, London: "This is the most remarkable film I have seen in a long time. Sanada and his co-stars are superb. Hollywood could learn a lot from the Japanese film makers." (21.Aug.04)