R E V I E W B Y R I C H C L I N E
dir Richard Eyre
scr Jeffrey Hatcher
with Billy Crudup, Claire Danes, Rupert Everett, Tom Wilkinson, Ben Chaplin, Zoe Tapper, Richard Griffiths, Hugh Bonneville, Edward Fox, Fenella Woolgar, Madeleine Worrall, Tom Hollander
release UK 3.Sep.04, US 8.Oct.04
Momentum
04/UK 1h48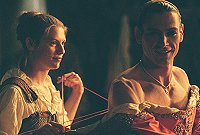 The dresser: Danes and Crudup







There are frequent echoes of Shakespeare in Love in this lively period romp--settings, cast members, the modern sensibility in the snappy script. And it's also based on a true story, with the gaps filled in by a talented playwright.

It's the Restoration, 1660s London, and women are not allowed on stage, leaving men to become the city's top "actresses". At the moment, Ned Kynaston (Crudup) is taking the town by storm as Desdemona in Othello. But King Charles II (Everett) wants to see something new, so he decides it's time to put women on stage, banning men from performing in drag. Suddenly Ned is out of a job, while his faithful dresser Maria (Danes) gets the chance to perform as she'd always dreamed. But what will Ned do now? Can he ever learn to play a man?

From the start, Eyre and Hatcher establish a darkly raucous atmosphere that avoids any picture-perfect version of Jolly Olde Englande. This is a lively, feisty place full extremely high-spirited people who are all after something: the actor/theatre owner (Wilkinson), the bisexual patron/duke (Chaplin), the ambitious consort (Tapper), the wealthy lech (Griffiths), the inquisitive writer (Bonneville), the perturbed politician (Fox). All are brilliantly well-played by a strong cast, ably led by Crudup and Danes in their most demanding roles yet, complete with incredibly thorny chemistry. Crudup is especially good as both man and woman, and something intriguing in between (although script and direction both cop out when it comes to his sexuality).

But this is a bawdy, rude film that wins us over with sheer energy. The characters are deeply flawed--even our hero and heroine--and yet they're so complex, and the interrelationships so entangled, that we're gripped to every witty line of dialog. There's also a wonderfully freewheeling sense of gender-bending that reaches its climax during a seriously nutty scene involving Everett (playing the son of his To Kill a King character) and Tapper. In the end, the film is a terrifically entertaining mixture of old and new--much of the plot simply could not have happened like this in that period, but you don't really care when you're enjoying yourself this much.
| | | |
| --- | --- | --- |
| | themes, language, innuendo | 9.Jun.04 |