R E V I E W B Y R I C H C L I N E
dir Alexander Payne
scr Alexander Payne, Jim Taylor
with Paul Giamatti, Thomas Haden Church, Virginia Madsen, Sandra Oh, Alysia Reiner, Marylouise Burke, Missy Doty, MC Gainey, Patrick Gallagher, Alex Kalognomos, Joe Marinelli
release US 20.Oct.04,
UK 11.Feb.05
Fox
04/US 2h03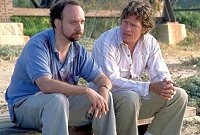 A fine vinage: Church and Giamatti





Payne and Taylor continue to skewer American society with this brilliant comedy about ambitions and expectations. Yes, they covered this territory in About Schmidt, but their approach is distinctive enough--and much funnier--that it's a must-see film.

The week before Jack (Church) gets married, his old friend Miles (Giamatti) takes him to Santa Ynez Valley, with wine-tasting and golf-playing in mind. But Jack wants to have a last-minute fling or two before he settles down. Both men are just hitting midlife--Miles is a middle school English teacher who's never published that elusive novel; Jack's a struggling actor whose greatest claim to fame is a TV advert voiceover. When they meet two fascinating, intelligent women (Madsen and Oh), their holiday takes a turn.

The script slices through the characters and situations like a scalpel, hilariously observing little moments that reveal both the characters and ourselves. The dialog is so astute that it often leaves us gasping for breath--laughing and cringing and pretending it's not actually us on screen. These are people who cling tenaciously to dreams they know they'll never realise. So underneath the constant stream of sharp humour there's a lovely stream of sadness, as well as hope that life might not be all that bad.

Giamatti and Church are simply wonderful--as they go through a series of twisted adventures, their interaction shifts, as does their own unique style of self-examination. These are richly detailed performances that keep us laughing and then overwhelm us in emotion. And Madsen and Oh are terrific as well in sharply written roles.

Payne fills the film with inspired comic moments that enhance the film's tone. When Miles phones his ex-wife in a moment of lonely desperation after a day of wine tasting, Jack chides him: "Did you drink and dial?" It's a big-laugh sitcom line, but in this context it has authentic resonance. And there are also several delicate, heartbreakingly intimate scenes between Giamatti and Madsen. But Payne keeps a grip on the material, never letting it spiral into a mere midlife crisis movie. After travelling this journey, we see our lives in a slightly new way.
| | | |
| --- | --- | --- |
| | themes, language, sex, nudity | 27.Oct.04 |