R E V I E W B Y R I C H C L I N E
dir Stacy Peralta
scr Stacy Peralta, Sam George
with Greg Noll, Jeff Clark, Laird Hamilton, Dave Kalama Steve Pezman, John Milius, Billy Hamilton, Buzzy Kerbox, Mickey Munoz, Darrick Doerner, Brian Keaulana, Eric Slater
release US 9.Jul.04, UK 3.Dec.04
Canal+
04/US 1h41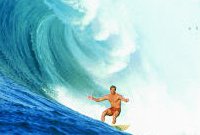 Big wave style: Because it's there.
See also: DOGTOWN AND Z-BOYS
LORDS OF DOGTOWN
To follow up his superb skateboarding doc DOGTOWN AND Z-BOYS, Peralta turns naturally to surfing ... and makes an even better film! Using first-hand accounts and extensive archive footage, he traces the history of big wave surfing, beginning with a witty trip back a thousand years when Hawaiians invented the sport. The film is structured around three pioneers: in the 1950s Noll dared to tackle Hawaiian waves everyone thought were far too massive; Clark discovered a secret reef off the Northern California coast and surfed it alone for 15 years before the world noticed; and Hamilton is the current king, innovating new methods for going after even more gigantic waves.

This is a brilliantly assembled film--nothing too deep and meaningful, just a thoroughly entertaining trip through the past 50 years of surfing. It's not about the competitive sport, these are daredevils who push surfing to the limit and enjoy every second of it. They're almost like addicts, going into gloomy funks whenever the sea flattens! And perhaps that's a side that could have been explored more, as well as their extremely patient spouses and the women surfers--there's only one of each in the film.

But what we do get is such a joy to watch that I wouldn't dream of complaining. Not only are the films and stills cleverly edited with great music, but the interviews are probing and fascinating, giving the film a narrative shape as the "story" progresses over the years. When one guy comments, "We were surfing our guts out", we understand exactly what he means. We can feel their wipeouts, their milestone achievements, the idyllic beach lifestyle. And when Peralta finally gets around to explaining the mechanics of big wave riding, we actually get it! Humorous and surprising, this is much more than just a documentary about surfing; it's an examination of a whole way of life, a passion for both confronting and being at one with nature. It's astonishingly singular--unlike anything else on earth--and it's always been cinematic. But never as engaging as this.
| | | |
| --- | --- | --- |
| | language, some themes | 27.Jul.04 |