R E V I E W B Y R I C H C L I N E
dir-scr Chris Cooke
with Gregory Chisholm, Rupert Procter, Mark Devenport, Hywel Bennett, Jonny Phillips, Julie Legrand, Micaiah Dring, Johann Myers, Penn Linfield, Dena Smiles, Tim Cunningham, Tony Claassen
release UK 2.Jul.04
FilmFour
03/UK 1h36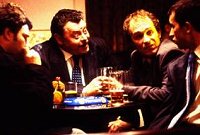 Plotting over a pint: Davenport, Bennett, Proctor and Chisholm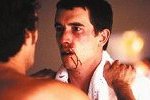 With a fiercely dark sense of humour and a moody use of digital photography, writer-director Cooke shows great promise with this debut feature. His style is similar to David Mackenzie (Young Adam), as he artfully makes his point with wry wit and unsettling themes.

Jimmy (Chisholm) has a reason to drink: His father recently died, leaving a run-down business that threatens to trap him in the Midlands for the rest of his life. And due to a drunk-driving conviction he has to attend an alcohol awareness course run by the extremely keen Ian (Phillips), who seems to have it in for him. There he meets a businessman (Procter), a cab company owner (Davenport) and a millionaire (Bennett), all of whom have completely derailed their lives with alcohol. But never mind! During lunch breaks they head to the pub for a few pints, hatching a plan to solve their problems. But Jimmy keeps getting distracted by the sexy barmaid (Dring) ... and the beer she keeps giving him.

With its fly-on-the-wall style and bone-dry comedy, this is like a tragicomic take on The Office, especially as Ian forces them into lame role-play exercises! It's also painfully real--every time these guys get in trouble, they head off to get another drink! The idea that alcohol is the cause of their misfortune never occurs to them. Performances are extremely natural, mixing clever scripting and improvisation to create characters that are wonderfully (and horrifically) believable. These are men and women we can really identify with, and Cooke cleverly brings out provocative issues without preaching for a second. By presenting it as it is, with blackly funny touches, he both acknowledges and debunks Britain's drink-and-drugs culture.

Some segments are hilarious (such as the class' paintball battle versus the "young, deprived car thieves"), but underneath the nervous laughter this is a story of desperation. The film drags a bit in its attempt to get every side of the story in here; there are too many comical scenes with strongly disturbing undertones, some of which don't quite work. But it's so telling, truthful and razor-sharp that it's definitely worth seeing.
| | | |
| --- | --- | --- |
| | themes, language, drugs, violence | 23.Apr.04 |