R E V I E W B Y R I C H C L I N E
dir Clint Eastwood
scr Paul Haggis
with Clint Eastwood, Hilary Swank, Morgan Freeman, Jay Baruchel, Mike Colter, Lucia Rijker, Brian O'Byrne, Anthony Mackie, Margo Martindale, Riki Lindhome, Marcus Chait, Bruce MacVittie
release US 15.Dec.04,
UK 14.Jan.05
Warner
04/US 2h12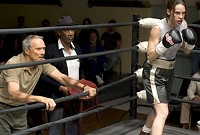 Knock 'em out: Eastwood, Freeman and Swank




• READER CHOICE: ACTRESS
HILARY SWANK


It's lovely to watch Eastwood mature as both actor and director in his 75th year! This film has a quiet confidence that catches the rhythms of both a strong story and engaging performances.

Frankie Dunn (Eastwood) is an aging boxing trainer with a run-down gym in Los Angeles. His pal Eddie (Freeman) manages the place, and is the first to soften when the feisty, confident Maggie (Swank) shows up for training. Frankie doesn't train "girls", and besides 31-year-old Maggie is past her prime! Eventually Frankie gives in, and the two build a tight mentor-athlete relationship that's strongly tested by some extremely difficult decisions.

"People love violence," says Eddie in the narration. And Eastwood draws on both the sport's popularity and brutality without pulling a punch, as it were. But the carnage in the ring isn't the point; it's an exploration of deeply personal relational issues. These three people play a beautiful dance around each other; Eastwood and Freeman are sheer perfection as lifelong friends who'd be horribly lonely old men if they didn't have each other. Not that they'd ever admit it! Their dialog bristles with old camaraderie, regrets and jokes. And Swank is superb as the third wheel of an unusual friendship, with a muscular body and a constantly surprising inner strength to match.

The film is gracefully measured, gently driving, delicately augmented by Eastwood's own soulful score. Visually it feels almost monochromatic, with muted colour and glimmers of red to remind us of the blood sport and inner rage. An offhanded charm marks most scenes, and as a result we almost don't notice the movie formula creeping in--the battered gym, worn-out trainer and manager, big title bout build-up and, most notably, the convenient fact that Frankie needs a daughter and Maggie needs a dad. Then it stands these cliches on their heads with a final act that's like a punch to the gut, digging far deeper than we expect and making us think about much bigger issues than the relatively simple plotline. And with performances as good as this, it's seriously powerful stuff.
| | | |
| --- | --- | --- |
| | strong themes, boxing violence and gore, language | 13.Dec.04 |


Michelle, London:

"This film did not turn out at all how I expected and I was truly surprised and moved by the story. It was beautifully shot and although felt slow moving I was totally absorbed - I didn't clock-watch once! It was superbly acted with totally believable characters. I absolutely recommend it without a doubt." (10.Feb.05)

Donna Carter, Wisconsin: "WOW! Excellent! It is now on my list of movies to purchase when it comes out on DVD. I am not at all surprised that it has been nominated for and has won so many awards. I was moved to tears (which is quite rare for me - I resist crying even when I'm at home alone!) I had a feeling it would be a tear-jerker when I watched the trailer, but wow. When I left the theater, I was not the only one wiping tears from my face. Thank God the trailer doesn't give it away. Beautiful. Ten thumbs up." (14.Feb.05)

aaronjm, net:

"It was OK. People tend to make this movie sound better and more moving than it really was. I thought that it was great up until the end. The ending ruined an otherwise good movie. I can't believe that a movie with such an awful ending could be praised as much as this movie has been." (20.Feb.05)