R E V I E W B Y R I C H C L I N E
dir Jay Roach
scr John Hamburg, Jim Herzfeld
with Ben Stiller, Robert DeNiro, Barbra Streisand, Dustin Hoffman, Blythe Danner, Teri Polo, Owen Wilson, Alanna Ubach, Ray Santiago, Tim Blake Nelson, Spencer & Bradley Pickren, Shelley Berman
release US 22.Dec.04, UK 28.Jan.05
Universal-DreamWorks
04/US 2h02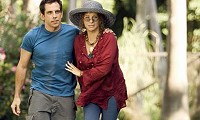 Family time: Stiller and Streisand (above); Hoffman and DeNiro (below)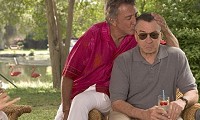 Four years ago, Meet the Parents was a surprise hit--enjoyable and cleverly written but rather too silly. Then the filmmakers struck casting gold for this much more inspired sequel.

Greg Focker (Stiller) has been dragging his heels about marrying fiancee Pam (Polo) simply because he's afraid to introduce her insanely overprotective ex-CIA agent dad Jack (DeNiro) to his lefty, stuck-in-the-70s parents Bernie and Roz (Hoffman and Streisand). But the time has come, and off they go in Jack's Kevlar-coated Winnebago with Jack's patient wife Dina (Danner) and their infant, already over-educated grandson (Spencer & Bradley Pikren). And it's of course all much worse than Greg thought it would be.

Fortunately, the screenwriters actually bother to take things much further, rather than just rewrite the embarrassment shtick from Part 1. This is a much better comedy--warm and inventive, with stronger characters and much more engaging interaction. Rather than just humiliate Stiller over and over again, this story actually digs beneath the surface and gives him a distinctive role to play, which he handles perfectly. And the story around him is simply divine--it's pure joy watching DeNiro, Streisand and especially Hoffman navigate their way through this story, with fine support from Danner and Polo. They're all having great fun, and it shows. And along the way each actor is both hilarious and telling.

And while there is a serious subtext, cast and crew remember that this is essentially a frivolous comedy. Roach directs the film sharply, only resorting to slapstick goofiness a few times, but continually grounding even those sequences. He avoids the cartoonish zaniness of the first film and instead draws from the chaos a surprisingly adept character-based comedy. Our laughter comes from how these people bounce off each other in rather realistic ways, and even more in the way we can see ourselves in them. Sure, it never seems to go quite far enough with the various issues it raises, and some scenes are just too goofy for words. But most of it will keep you giggling long after the inspired closing credit sequence.
| | | |
| --- | --- | --- |
| | themes, innuendo, language | 14.Dec.04 |

william glover, net:

"a sure fire hit! very,very funny. streisand and de niro are fantastic." (17.Dec.04)

Lynne, Pennsylvania:

"My husband and I both loved it. Sequels aren't usually as good as the original, but this surpassed the first Meet the Parents. Dustin Hoffman and Barbara Striesand were so comical together. That little Jack made me laugh untll I cried! Robert DeNiro was also good. I love Ben Stiller! I recomend this if you want to laugh." (10.Jan.05)
Laurie T, Minneapolis: "what can be said about a movie that got bad reviews but keeps leading at the box office? All I can say is we laughed so hard we were crying, and I guess that is what you go to the theatres for anyway - to be entertained. And laughter is good for the soul, so this movie must be good for you." (30.Jan.05)