R E V I E W B Y R I C H C L I N E
dir Mark Waters
scr Tina Fey
with Lindsay Lohan, Rachel McAdams, Lizzy Caplan, Daniel Franzese, Jonathan Bennett, Lacey Chabert, Amanda Seyfried, Tina Fey, Tim Meadows, Amy Poehler, Ana Gasteyer, Rajiv Surendra
release US 30.Apr.04, UK 18.Jun.04
Paramount
04/US 1h30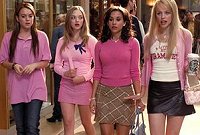 You've got to be cruel to be cool: Lohan, Seyfried, Chabert and McAdams




This ingenious script is perhaps too smart for its own good, providing an incisive and brutally hilarious orientation to American high school culture. Sharp performances and witty direction combine to make this one of the best teen comedies in recent memory.

At age 15 Cady Heron (Lohan) has never attended school before. She was home taught by her parents while they worked in Africa, and now she's thrown in at the deep end: a Chicago high school. She's quickly befriended by outsiders Janis and Damian (Caplin and Franzese), who orient her the school's subcultures. Cady's horrified when the "plastics", the popular girls, adopt her and try to make her one of them; but Janis and Damian convince her to work as a spy to subvert leader Regina (McAdams) and her two minions (Chabert and Seyfried). Meanwhile, Cady starts falling for Regina's hunky ex (Bennett). Could be trouble, but you've got to be cruel to be cool!

The film is so packed with astute touches that it's nearly impossible to catch everything; each throwaway line of dialog, the way every sequence is directed, all of the performances are packed with deranged, pointed humour that's both revealing and incredibly unnerving as it brings all kinds of unspeakable issues to uproarious light. The filmmakers even have a fresh approach to the story's moral, avoiding sentimentality and keeping their sense of wit right to the very end.

Through it all, Lohan maintains a wonderfully energetic performance. She's like a piece of clay everyone moulds to their own interests, yet we can see the real person struggling to emerge. And each of the students around her transcends stereotypes to be both funny and telling. Even adult characters are entertainingly detailed, from teachers (Meadows' conflicted principal and writer Fey's frazzled math teacher) to parents (most notably Poehler as Regina's too-young and too-liberal mother). Waters and Fey also refuse to shy away from more serious issues, without making a huge deal about them. In this way they say much more than all those heavy-handed teen movies put together. But we hardly realise they're doing it because we're having so much fun.
| | | |
| --- | --- | --- |
| | themes, language, vulgarity, innuendo | 22.Apr.04 |


Alex Anolik, New Jersey:

"It is hilarious. Whatever reviewers or commercials say about it, remmeber: This is a Saturday Night Live movie! Tina Fey's writing is hilarious. go see this. now." (27.Apr.04)

Brad Hawkes, Southern California:

"I thought it to be very clever, and I hope the sometimes uncomfortable scenes in this film which portray some of the bad behavior in a funny light will further encourage viewers to delve into the issue of relational aggression and its sometimes brutal consequences. While Mean Girls shows the comedic side of teen female relational aggression and cliques, a new documentary titled Rats & Bullies (showing at festivals) looks through the lens of a tragic true story involving 'real' mean girls. It's the story of a young girl from Canada who committed suicide after being systematically bullied and threatened by three juvenile girls from her school. It's an important and powerful film." (20.Apr.04)