R E V I E W B Y R I C H C L I N E
dir-scr Noli
with Paolo Seganti, Gina Bellman, Ben Daniels, Kristen McMenamy, Denis Lavant, Lidija Zovkic, Gabrielle Richens, Naomi Sorkin, Peter Tate, Charis Waudby, Christina Estrada
release UK 7.May.04
04/UK 1h42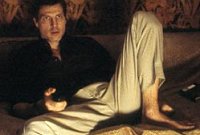 Couples in crisis: Seganti (above); Bellman, Daniels and McMenamy (below).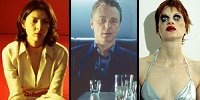 With striking visual imagery, strong performances and a daring approach to themes and narrative, first-time filmmaker Noli proves to be a talent worth watching. Although he could lighten his extremely self-conscious style to make it a bit more accessible.

Two couples in London--four friends--circle around each other like sharks, one of which has much bigger teeth! Paul and Amanda (Seganti and Bellman) have been married for seven months; they're happy, but Paul is straining to cope with Amanda's obsessive jealousy and paranoia about everyone he's ever known. Their unmarried friends Danny and Kim (Daniels and McMenamy) are in a codependent relationship in which the cruel Danny puts Kim through a series of misogynistic mind games and cruel role-playing. But it's when the couples interact in other combinations that real fire ignites.

Basically this film has six major scenes--each combination of the four characters--punctuated by shorter sequences involving outsiders, to-camera monologues and one scene with all four of them. Noli films this in a colour-coded style that's visually breathtaking; we often understand what's going on simply by the way the scene is designed. The effect is a bit theatrical, but the gnawing emotion gives it cinematic punch. It helps that the performances are so strong, especially with characters who are often so unlikeable. Seganti has the most engaging role as a guy trying to do the right thing and unsure what to do with his conflicting desires. Daniels is so vile and controlling that we hate him from the start, and even more so as his twisted plan becomes clearer. So why anyone would be his friend or lover? Meanwhile, the women have much more difficult roles as willing victims to manipulation and violence (physical and emotional) from themselves and others.

This isn't an easy film to watch, and yet it's utterly gripping. Noli is dissecting monogamy in a severe, Neil LaBute sort of way, daring us to be offended or shocked. Confrontational dialog fills the film--discussions, arguments and interrogations in strong language that's designed to shock. Yes, it's a bit too intense, knowingly outrageous and unnatural. But beneath the murkiness it's also full of raw truth.
| | | |
| --- | --- | --- |
| | adult themes and situations, language, nudity | 25.Mar.04 |

Johnnie-Martini, Bockley:

"A sharp and contemporary style of film with important questions as to how life could, should or indeed can be lived. How to get through the pain of the fear? Something we should all ponder. Thank you, Noli, clearly you have an understanding and playfullness for drama using a camera." (11.May.04)

Leonard Huistra, Milton Keynes:

"Awesome and disturbing. Seen nothing so brutally honest before. Best looking brit-film in years. Forget Love Actually - this is stunning, actually." (25.May.04)