R E V I E W B Y R I C H C L I N E
dir Stephen Hopkins
scr Christopher Markus, Stephen McFeely
with Geoffrey Rush, Charlize Theron, Emily Watson, John Lithgow, Miriam Margolyes, Peter Vaughan, Stephen Fry, Stanley Tucci, Sonia Aquino, Heidi Klum, Nigel Havers, Mackenzie Crook
release UK 1.Oct.04
HBO-BBC
04/UK 2h02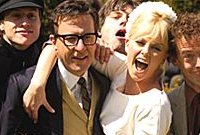 The high life: Rush with Theron (above) and Watson (below).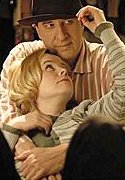 See also: INTERVIEW WITH GEOFFREY RUSH AND
CHARLIZE THERON

If you have no knowledge of Peter Sellers' acting genius, it's difficult to engage with this artfully inventive biography. This complex, intelligent portrait centres so deeply in Sellers' mind that it only paints half the picture. Only with experience of his public persona will this film come to remarkable life.

We begin as Sellers (Rush) is shifting into film after radio's The Goon Show, moving from wacky costar to leading man, Dr Strangelove, the Pink Panther movies, his aborted attempt at James Bond, his passion to make Being There. This is paralleled with his physical problems and his troubled personal life--marriage and children with Anne (Watson) and Britt Ekland (Theron), flings with Sophia Loren (Aquino) among others, strange relationship with his parents (Margolyes and Vaughn), and working relationships with Blake Edwards (Lithgow) and Stanley Kubrick (Tucci).

What emerges is a portrait of a tortured genius so deeply immersed into his characters that he virtually disappeared--a man so obsessed with his identity that he found it impossible to relate to those around him. What the film never captures is the childlike joy he conveyed in his films; the brilliant comedy we all saw is here shown as merely a ruthless drive to work.

Hopkins inventively combines surreal filmmaking styles with colours and textures of the 50s, 60s and 70s, recreating scenes from Sellers' movies along with constant references and sight gags. And he also playfully toys with the art of moviemaking through fantasy sequences involving behind-the-scenes trickery (such as Sellers looping happy new dialog into a sad memory), all to show Sellers' slipping grip on reality (such as when his mother is forced to have lunch not with her son, but with Dr Strangelove).

And Rush delivers a staggering performance Even though Sellers is an unsympathetic character, we're mesmerised by his troubled complexity, especially as he ends up playing everyone in his life. Surrounding characters are small but strong, and very well-played. This is a funny, romantic and ultimately tragic story that feels a little stretched and episodic. It's clever enough to let the characters grow on us, but only if we know them to begin with.
| | | |
| --- | --- | --- |
| | themes, language, sex | 28.Jun.04 |