R E V I E W B Y R I C H C L I N E
dir Peter Howitt
scr Robert Harling, Karey Kirkpatrick, Peter Howitt, Douglas McFerrin, Aline Brosh McKenna
with Julianne Moore, Pierce Brosnan, Frances Fisher, Parker Posey, Michael Sheen, Nora Dunn, David Kelly, Heather Ann Nurnberg, Johnny Myers, Elva Crowley, David Wilmot, Brendan Morrissey
release US 30.Apr.04,UK 14.May.04
New Line
04/US 1h29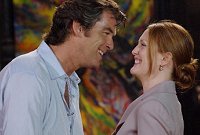 Sparring partners: Brosnan and Moore



Clearly going for a Tracy-Hepburn battle-of-the-sexes tone, this engaging rom-com keeps us mildly entertained. Alas, the script feels like it was written by a committee, with a nearly overwhelming blandness that smothers rare flashes of astute humour.

Audrey Miller (Moore) is a top New York divorce lawyer, a fastidious Weather Channel devotee who takes the high road in her cases. Then she comes up against the scruffy and sneaky Daniel Rafferty (Brosnan), and as they wage war in a series of high profile cases, they're really falling in love. Audrey's eternally youthful mother (Fisher) does everything she can to push them together, while their latest case (between rock-star Sheen and fashion designer Posey) puts them in a position where they'll finally have to confront their feelings for each other.

In the absence of anything original, there are several things to enjoy here, starting with winning performances by Moore and Brosnan. She's a bracing bundle of nerves, he's a charmingly sincere hound dog, and they spark with chemistry when they're at each others' throats. Not so much when they're all goo-goo eyes. Sheen and Posey go for it with broad and very loud performances that seem to come from a edgier comedy than this! But it's Fisher who steals the film with all the funniest dialog.

Howitt directs in that vacuous Hollywood style--efficient but uninteresting, relying a bit too much on montage sequences. The two Irish side-trips have a nicely organic feel. But the sharpness seems to have been sanded off through endless rewriting; most dialog is lacklustre, the slapstick feels badly strained and the sweet romantic bits are forced. Most tellingly, none of the characters seem to have any life beyond the plot itself--no back stories, no friends, no interests at all. There are promising moments that make us laugh or smile. But mostly the film just reminds us how superb Katharine Hepburn and Spencer Tracy were at this kind of thing.
| | | |
| --- | --- | --- |
| | themes, some language | 22.Apr.04 |