R E V I E W B Y R I C H C L I N E
dir-scr Charles Dance
with Judi Dench, Maggie Smith, Daniel Bruhl, Miriam Margolyes, Natascha McElhone, David Warner, Freddie Jones, Clive Russell, Toby Jones, Jack Callow, Gregor Henderson-Begg, Tom Hill
release UK 12.Nov.04,
US 29.Apr.05
Scala
04/UK 1h48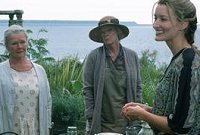 Suspicious minds: Dench, Smith and McElhone




With that title and those two grand dames in the lead roles, you think this'll be an annoyingly quaint British film about two old scene-chewers. But superb characters, excellent performances and a nicely understated filmmaking style combine to make it thoroughly satisfying and engaging.

Ursula and Janet Widdington (Dench and Smith) are aging sisters enjoying their isolated life in 1930s Cornwall, but their idyll is jolted when a young man (Bruhl) is washed ashore near their home. While nursing him back to health, the ladies discover an affinity for young Andrea, a gifted Polish violinist on his way to America. But the village isn't used to visitors, and everyone's a bundle of suspicions, repressions and jealousies. Especially when Andrea develops a friendship with a visiting painter (McElhone).

Cute without being precious, moving without being sentimental, this delicately balanced film really gets under our skin with characters who are never remotely simplistic. The soulful Ursula's growing crush on this young man is beautifully played by Dench. Smith brings a very different level of clinginess to the more proper Janet. And Bruhl's offhanded, charming rawness is reminiscent of Ewan McGregor. Around this trio, Margolyes has an eye-rolling ball as the ladies' irritable housekeeper, Warner is a bundle of conflicting emotions as the helpful-hopeful-vengeful local doctor, and McElhone is a lovely, floaty alien presence. Thankfully, not a single character goes where you expect them to.

This is such an accomplished film that it's a surprise to find it written and directed by a first-timer: the actor Charles Dance. He draws out layers of humour and warmth then balances them with bitter doses of resentment and mistrust. Character interaction is often almost subliminal; these sisters have clearly lived together too long, yet they never boil over into hysterical movie-type behaviour (although they come close!). Similarly, the plot has a terrific sense of growing dread that never erupts into a contrived climax. Meanwhile, Dance establishes the gorgeous setting and period in lyrical ways that never prettify anything. It's a film about the dangers of either rejecting or grasping too tightly to whatever's new and unexplained. So very, very English.
| | | |
| --- | --- | --- |
| | themes, brief language | 7.Jun.04 |


Elizabeth Carstairs, Toronto:

"I saw this movie at the Toronto Film Festival and it was brilliant! Bravo!" (21.Sep.04)

Duncan Franks, North London:

"I have seen reviews that totally miss the point about this film. But Rich Cline's review undertstands and appreciates it perfectly. This is nothing less than a triumph, and as admirers of both Judi Dench and Maggie Smith, I cannot remember when last I was so moved my a movie, by performances so real that at times it was painful to watch. Bravo to Mr Dance, and grateful thanks for a film by real people about real people." (16.Nov.04)
C Fitch, Cheshire:

"When we came out of the cinema our comment was, 'that was really exquisite'. What a joy to see subtle, heartbreaking performances and done with taste and discretion. The music was exquisite and the cd of the soundtrack is glorious thanks to violinist Joshua Bell who interprets Nigel Hess' compositions so well. The acting was flawless from the wonderful Judi Dench and Maggie Smith to the smallest character role. What a delight to see David Warner again. How can you beat the lovely cornish scenery. I can't wait to get the video or dvd to be able to really see all the lovely little subtleties of the performances that one tends to miss on the first viewing. Thank you Charles Dance for a film of poignancy and quality." (9.Jan.05)
Lois and Ed, Santa Barbara: "It includes two of our favorite actresses, some of our favorite countryside and coastline, and one of our favorite violinists (Joshua Bell). How could it miss the mark? Only by fuzzing up the story with sex, violence and mush--which it didn't do! The movie moves along with strength and flow as the images, music, and relationships develop in layers that make them so real and powerful. Judi and Maggie were magnificent in their abilities to enhance each other and bring out the best in both without competing for top place. The music was perfection itself and made you feel that you had been a part of a wonderful expression of the depths and love within a human soul." (28.May.05)