R E V I E W B Y R I C H C L I N E
dir Michael Mayer
scr Michael Cunningham
with Colin Farrell, Dallas Roberts, Robin Wright Penn, Sissy Spacek, Matt Frewer, Erik Smith, Harris Allan, Andrew Chalmers, Ryan Donowho, Wendy Crewson, Ron Lea, Barna Moricz
release US 23.Jul.04, UK 12.Nov.04
Warners
04/US 1h37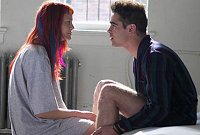 Who do you love: Penn and Farrell



There's a very strong story here, but its adaptation to the cinema screen isn't terribly effective due to overly stagy direction and a too-literary script--neither of which is surprising since it's the film debut of both a theatre director and an acclaimed novelist.

Bobby Morrow (Chalmers, Smith and then Farrell) grew up too quickly when he lost his family members one by one. So it's no surprise that family is an obsession for him. When he has no one left, the parents (Spacek and Frewer) of his best friend Jonathan (Allan, then Roberts) take him in. Then when he's older he goes to New York to live with Jonathan and his flatmate Clare (Penn). But this new family unit is strained by the fact that Jonathan is in love with Bobby, Clare loves Jonathan and Bobby wants to love everyone.

The strong central story and superb acting give the film a powerful resonance. Farrell has never done anything like this--subtle, charming, brittle--and he's very good. Although Penn and Roberts get more intriguing roles, simply because they're the ones gripped by doubt and fear. And Clare, especially, is far less knowable. As a whole, the film is touching and extremely involving, although it's also too low-key and meandering. This is mostly due to the fact that both writer Cunningham and director Mayer have failed to properly adapt the material.

It's far too word intensive, using dialog to hint at unseen emotions instead of letting the actors convey them. This works beautifully on stage or in books, but makes it impossible for film audiences to properly engage with the characters. The strongest scenes are the cinematic ones--such as when Bobby and Jonathan share an impromptu dance on the veranda. This is perhaps the only moment with any real passion in it--the film is full of affection between the characters, but very little chemistry. The filmmakers also drift into sentimentality too easily and badly shy away from the provocative issues they raise (like sexuality). But the strong performances and powerful themes still make it well worth seeing.
| | | |
| --- | --- | --- |
| | themes, language, drugs, sex, grisliness | 15.Sep.04 |


IndigoJen, Los Angeles: "A film finally came out that I just had to run out and see on its opening weekend - and was I ever glad. This story is about two friends, Bobby & Jonathan (Colin Farrell & Dallas Roberts) who find in each other the pieces missing in their own lives, forming a lifelong connection on many levels. Enhancing their relationship are Jonathan's mother (Sissy Spacek) and the woman who forms the third of their unorthodox family as adults (Robin Wright Penn). The story is deeply moving, and the characters draw you in. Colin exudes a piercing vulnerability, and Spacek and Penn both give strong, many-layered performances. I highly recommend this film - I'm surprised that it hasn't gotten more buzz, and hope that word of mouth spreads so that people don't miss out on this wonderful story." (27.Jul.04)