R E V I E W B Y R I C H C L I N E
dir-scr Carl Bessai
with Ian McKellen, Deborah Kara Unger, Theo Crane, Tygh Runyan, Chris William Martin, Ian Tracey, Janet Wright, Nancy Sivak, Frank Borg
release Canada 9.Jan.04,
UK 21.May.04, US 18.Feb.05
03/Canada 1h35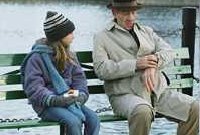 Getting to know you: Crane and McKellen


This ethereal Canadian drama tells of a family trying to make sense of its own past. Emile (McKellen) is a retired Londoner who returns to his native Canada for the first time in 40 years to receive an award for his life's work. He takes the opportunity to visit his long-lost niece Nadia (Unger), who he's never met, as well as her annoyed 10-year-old daughter (Crane). But being around her stirs memories of life in Saskatchewan with his two brothers. The handsome younger Freddy (Runyan) showed skills as a writer but was required to work as a farmhand; the controlling eldest (Martin), Nadia's father, ran the family business with an iron hand; while Emile got the chance to go to London to pursue an education.

Guilt and regret swirl through Emile's haunting memories, beautifully filmed and edited by Bessai to take us into the mind of a man who has made too many life-changing decisions. McKellen plays it with a controlled undercurrent of humour and emotion. Having him play the older Emile in the flashbacks is a clever device, yet it leaves those scenes oddly unsatisfying since we never see the three brothers as a thrusting young threesome. Still, there's a palpable connection between them--a strong sense of love and longing, tinged with Emile's overwhelming sorrow (we get all the details eventually). Unger meanwhile is superbly brittle and dry (and we learn why), getting her character's balance of mistrust and past hurt note perfect. And the surrounding cast are natural as well.

Bessai's moody filmmaking style is never dull; it involves us fully with an introspective and realistic examination of strained relationships and the struggle to make sense of things and move on. His script is sharp, funny and very complex, while his directing and editing choices are often thrillingly inventive. This artful intermingling of the past and present has something powerful to say about the repercussions of thoughtlessness. The final sequence is strong and also somewhat strained in its attempt to make right a lifetime of mistakes and accidents. But by then we're hypnotised by the possibilities, looking through our own pasts for clues about our future.
| | | |
| --- | --- | --- |
| | themes, language, some violence | 1.Mar.04 |