R E V I E W B Y R I C H C L I N E
dir Tommy O'Haver
scr Laurie Craig, Karen McCullah Lutz, Kirsten Smith, Jennifer Heath, Michele J Wolff
with Anne Hathaway, Hugh Dancy, Cary Elwes, Aidan McArdle, Vivica A Fox, Joanna Lumley, Minnie Driver, Jimi Mistry, Jennifer Higham, Lucy Punch, Jim Carter, Eric Idle, Patrick Bergin, Parminder Nagra, Heidi Klum, Steve Coogan
release US 9.Apr.04, UK tbc
Miramax
04/US 1h35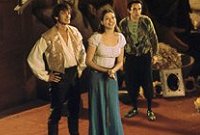 As you wish: Dancy, Hathaway and McArdle perform for the giants.



This irreverent, self-reverential fairy tale in the Shrek/Princess Bride mould has enough sharp humour to keep both adults and kids entertained, even if it never quite scales the heights of the two films that so obviously inspired it (and were perhaps more influential than Gail Carson Levine's source novel).

Young Ella of Frell (Hathaway) has a secret: Her ditsy fairy godmother Lucinda (Fox) gave her the gift of obedience at birth, which has left her unable to resist doing whatever anyone tells her to do. When her father (Bergin) marries the conniving Dame Olga (Lumley), Ella inherits spoiled-brat stepsisters (Highham and Punch) who use the spell to their advantage. So Ella sets off to find the long-lost Lucinda, joined by the book-bound boyfriend (Mistry) of her hapless Aunt Mandy (Driver), an ambitious elf (McArdle), a few giants and ogres and, most importantly, the pin-up heartthrob Prince Charmont (Dancy), whose evil uncle (Elwes) is plotting to take over the kingdom.

There's enough attitude here to keep the audience laughing, even when the film tips into stupid spoofery (a wooden escalator at a medieval mall, ha ha). Fortunately, O'Haver lets dark edges emerge, making thoughtful comments on society amid all the goofiness, all while packing the film with a hummable pop tunes (some of which become full-on production numbers).

While the fine supporting cast is criminally underused, Hathaway gets the chance to shine, making Ella a nicely layered hero. She gives her all to every romantic, action, dramatic or song-and-dance set piece, even livening up the cardboard Charmont character (Dancy is fine, but it's the film's weakest role). There's far too much emphasis on effects wizardry (Coogan voices the uncle's pointlessly tacked-on CGI snake sidekick), some story elements never work (Ella's clash with best pal Nagra opens a racial can of worms but feels severely rushed), and it feels somewhat unfocussed, like it was written by a committee (five screenwriters share credit). But it's still snappy and engaging. And it makes us want to watch Shrek and The Princess Bride again.
| | | |
| --- | --- | --- |
| | themes, vulgarity, some language | 11.Apr.04 |

Nathalie, Ontario:

"It was a good movie, and it was so much more different than the book. I think Gail Carson Levine's way was WAY better, although the movie was good." (3.Nov.04)

Alexia, Belgium:

"I think that it was a wonderful movie. You didn't have to think, because you were carried away by the story. I loved it." (16.Feb.05)