R E V I E W B Y R I C H C L I N E
dir Michael Winterbottom
scr Frank Cottrell Boyce
with Tim Robbins, Samantha Morton, Om Puri, Jeanne Balibar, Emil Marwa, Nina Fogg, Bruno Lastra, Christopher Simpson, Taro Sherabayani, Essie Davis, Benedict Wong, David Fahm
release US 6.Aug.04, UK 17.Sep.04
BBC
04/UK 1h32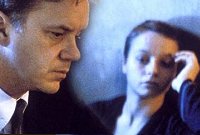 Are you my mother: Robbins and Morton


See also: INTERVIEW WITH
TIM ROBBINS AND
SAMANTHA MORTON

Winterbottom is one of those infuriatingly gifted filmmakers who can create an atmosphere like nobody else, get superb performances from his cast and grip us emotionally even when the story falls apart, which it inevitably does. In a prolific career he's had two unqualified successes (Wonderland and In This World). Alas, this isn't one of them.

In the near future, medical science has evolved to the point where viruses are used to learn language and acquire empathy, memory can be manipulated, and DNA is closely regulated by a legal code, clause 46 of which forbids procreation between people with common genes. In this environment, William (Robbins) is investigating a trail of false papers that leads to a Shanghai company where Maria (Morton) works. There's a strong spark between them that carries them much further than either expect, all while something much more mysterious is going on around them.

Winterbottom and Boyce fill the film with amazing details, creating a time and place that's not only believable but intriguing, entertaining and gripping! The blend of language (English is peppered with Chinese, Spanish, French and Arabic) and ethnicities combine with the striking visuals to create a world we can clearly see as our own ... but with significant "advancements". And this is done on a remarkably small budget that makes the film one of the earthiest and most believable futuristic movies in memory. It looks fantastic, combining Alwin Kuchler and Marcel Zyskind's grainy, washed-out cinematography with the Free Association's powerful score.

Robbins and Morton are very good as well, unable to resist the chemistry that draws them together. As they're assaulted by all kinds of obstacles, and we root for them to sift the truth from the lies. Alas, the story never comes into any focus. We're never sure what the big mystery is, and as the story progresses it all gets increasingly cold and unfeeling, which seems odd for a tale of forbidden love! Continual references to being either "inside" or "afuera" make little sense until the poignant final shots. In a word: Confusing. But this is still fascinating filmmaking.
| | | |
| --- | --- | --- |
| | themes, sex, brief nudity | 29.Jun.04 |