R E V I E W B Y R I C H C L I N E
dir Mike Nichols
scr Patrick Marber
with Julia Roberts, Jude Law, Natalie Portman, Clive Owen, Nick Hobbs, Colin Stinton
release US 3.Dec.04, UK 14.Jan.05
Sony
04/US 1h45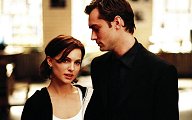 In and out of love: Portman and Law (above); Roberts and Owen (below)


• READER CHOICE:
SUPPORTING ACTRESS
NATALIE PORTMAN
• READER CHOICE:
SUPPORTING ACTOR
CLIVE OWEN


Based on Marber's own play, this film asks so many questions about relationships that it's almost overwhelming to watch, shredding the fluffy picture of romance we usually see in movies to show us the gritty truth that love is difficult business. Fortunately the characters are strong enough to keep us engaged.

Sparky young Alice (Portman) meets the bookish journalist Dan (Law) when she's hit by a car on the streets of London. Romance ensues, Dan blossoms into a confident and sexy author, and he falls for the photographer Anna (Roberts). She's just come out of a bad marriage, and is just about to fall in love with a doctor, Larry (Owen). Over the course of several years, these four people crisscross each others' lives, manipulating and being manipulated, loving and being loved.

Basically these people are victims of things they can't control--attraction, love, flirting, obsession, jealousy, anger, fear, lying. These are the things we do without really thinking, as if we're incapable of restraining ourselves. Other things are easier to be in command of; as several characters mention, this is what makes us different from the animals: forgiveness, control, telling the truth.

These are heavy, provocative, extremely strong issues, and the film tackles them head-on, unblinkingly. It's almost too brutal at times--twisted and cruel and sad. But Nichols orchestrates it beautifully, shooting and editing impeccably, demonstrating his expertise without resorting to showy filmmaking. And he's also got Marber's almost too-clever words (which are slightly stagy, as is the limited four-character set-up) and a terrific four-person cast.

All of the characters are slowly unpeeled in front of us. Roberts finds real resonance in Anna's inability to truly open her heart and commit to someone. Law gives Dan a lovely pathetic charm--he simply can't get a grip on his own passions. The contrast between his nebbish loneliness and his sexy lustiness is striking, mostly because he gets even more sexually aggressive when he's actually in a relationship with someone else. Owen gives his best performance in ages as the smiling-but- manipulative Larry. And Portman steals the show with an astonishingly layered performance as the spiky but vulnerable Alice. Even without the rest of the film's genius, she's worth the price of a ticket.
| | | |
| --- | --- | --- |
| | strong themes, language, innuendo, violence | 27.Nov.04 |