R E V I E W B Y R I C H C L I N E
dir Alex De Rakoff
scr Raymond Friel, Derek Boyle, Alex De Rakoff
with Orlando Bloom, Omid Djalili, Rafe Spall, David Kelly, Tamer Hassan, Michael Lerner, Ronni Ancona, Michael Pena, Lindsey Marshal, Billie Piper, Frank Harper
release UK 30.Apr.04
Universal
04/UK 1h29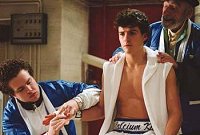 Getting ready for Round 1: Spall, Bloom and Kelly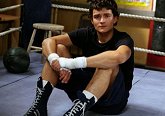 This goofy mockumentary has a lot going for it--from a good cast to some extremely funny gags. Sadly, it never lives up to the promise, due to a lack of directorial focus that lets everything slip out of control. But it's pretty good fun while it lasts.

London boxing promoter Herbie Bush (Djalili) is in trouble! He's managed to get his best fighter Pete (Hassan) a match on home turf against the world middleweight champion (Pena). Then just a week before the "Melee on the Telly", Pete goes and breaks his hand sparring with the skinny local punk Jimmy (Bloom), who it turns out has bones like stone due drinking several pints of milk every day. Jimmy is a milkman, so Herbie dubs him the Calcium Kid and offers him the chance to fight in Pete's place. But can he even survive one round against the champ?

When the film is spoofing either Rocky or the chaos of celebrity culture, it has a silly tone that's completely endearing, and very astute. It helps that Bloom is so likeable as Jimmy, and that he's surrounded by a cast of scene-stealers like the stand-up comic Djalili, as well as Spall (as his hip-hop-loving best mate), Kelly (his geriatric Irish coach), Ancona (his working-girl mother) and Lerner (the champ's manager). What doesn't help is the way director De Rakoff violates the prime directive of the mockumentary: Play it dead straight and let the material make them laugh. He encourages his cast to play up the comedy, and as a result it's not funny. This also makes the less-assured cast members look unsteady on their feet, as it were. In addition, you can see what he was trying to do with some plot turns, but he botches the story and loses the personality in the process. This is a pity, because the characters are cleverly written and played, with scenes that make us laugh and feel for them as they go through an increasingly farcical experience. As a result, the film is very enjoyable ... but it's not very good.
| | | |
| --- | --- | --- |
| | themes, language, innuendo | 24.Mar.04 |