R E V I E W B Y R I C H C L I N E
dir Gurinder Chadha
scr Paul Mayeda Berges, Gurinder Chadha
with Aishwarya Rai, Martin Henderson, Nadira Babbar, Anupam Kher, Naveen Andrews, Namrata Shirodkar, Daniel Gillies, Nitin Ganatra, Peeya Rai Chodhuri, Meghna Kothari, Sonali Kulkarni, Marsha Mason, Alexis Bledel, Indira Varma, Meghnaa, Ashanti
release UK 8.Oct.04, US 24.Dec.04
Pathe
04/UK 2h05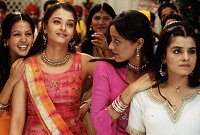 The fabulous Bakshi sisters: Chowdhary, Rai, Shirodkar and Kothari



If you're working from such a tried and over-filmed novel as Jane Austen's Pride & Prejudice, it helps to take such a bracingly original approach. Director-cowriter Chadha cleverly turns the story into a colourful Bollywood epic that's thoroughly good fun, even if it doesn't live up to the promise of its themes.

In the Punjabi countryside, Mr and Mrs Bakshi (Kher and Babbar) have a problem: They have four beautiful daughters, but not enough status to arrange above-average husbands for them. The eldest Jaya (Shirodkar) helpfully falls for a visiting millionaire (Andrews), accompanied by his best friend, the hotel heir Will Darcy (Henderson), who's immediately attracted to the second Bakshi daughter, Lalita (Rai). But the feisty, independent-minded Lalita clashes loudly with Darcy. The story takes them to London and Los Angeles for increasing romantic entanglements.

Energetic, hilarious and extremely full of life, this film is a joy to watch. The characters and costumes are vivid and extravagant, while the settings are so lovingly photographed that it often looks like an official Punjab, London or L.A. tourism film (with side excursions to Goa and the Grand Canyon). This corny sensibility infuses the entire film, most notably in the vibrant, elaborate and almost pathologically smiley musical numbers. Here's where Chadha plays with the cultural mix, throwing gospel choirs, mariachi bands and even prancing surfers in, although she's never willing to expand the lyrics beyond sentimental Bollywood kitsch.

The performances are in that style too--superficial and stylised--making it difficult for Western audiences to buy the story. The characters are all likable and witty, but they're basically fantasy variations on real people. The film's strongest element is its blending of racial, cultural and class themes, brilliantly adapted from the Austen novel and nicely played by the cast. A constant stream of clever details keeps us on our toes, especially for those familiar with the source material. But this also brings major disappointment when the movie abandons these ideas, shifting into silly rom-com mode as Chadha rushes to a flamboyant conclusion. But if a breezy Bollywood romantic comedy is enough, you're in heaven.
| | | |
| --- | --- | --- |
| | themes, innuendo | 19.Jul.04 |


Sahiba, Delhi:

"I think the film is okay, i guess. lots of music. it may eat your head" (20.Oct.04)

gabriel saclain, nottingham:

"If truth be told, this film is an absolute, complete and utter turkey. Bend it Like Beckham was a joy - a hilariously accurate, authentic and raw film about modern British Sikh life. Just a pity that Chadha squandered her $75m proceeds on a badly (read: overly) acted, utterly formulaic film that never fails to disappoint. The chemistry between 'Mr Darcy' and Rai is about as believable as that between Predator and the Alien. The 'songs' thoroughout, especially the English language ones, are simply cringeworthy. And behind the gloss, beautiful faces and superfluous dance routines, there is no substance, no depth and no plot to keep you involved in any serious way. Hope I have saved all but the most die hard Bollywood fans (Jane Austen fans beware - this is a joke) of a worthy £6. Ideally save that for the next delight from Mira Nair (Monsoon Wedding) for a real slice of India." (19.Oct.04)