R E V I E W B Y R I C H C L I N E
dir Beeban Kidron
scr Andrew Davies, Helen Fielding, Richard Curtis, Adam Brooks
with Renee Zellweger, Colin Firth, Hugh Grant, Sally Phillips, Shirley Henderson, James Callis, Jim Broadbent, Gemma Jones, Jacinda Barrett, Morne Botes, Catherine Russell, Wolf Kahler
release UK 12.Nov.04, US 19.Nov.04
Universal
04/UK 1h45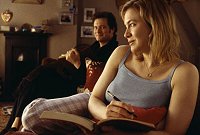 Did you know her boyfriend is a lawyer? Firth and Zellweger



There's deliriously funny comedy and marvellous performances within this sequel, but the filmmakers seem to have missed the point of the first film's success completely, concentrating on all the unlikeable elements, leaving us annoyed and apathetic in the process.

TV journalist Bridget (Zellweger) is happy with gorgeous lawyer boyfriend Mark (Firth), but her insecurities make every day a drama of embarrassment and desperation. And it gets worse when Mark starts spending rather a lot of time with a lovely colleague (Barrett). Then Bridget's ex (Grant) reappears, and she has to go off to Thailand with him for work, where things quickly get even worse for our heroine.

Bridget's deep-seated insecurity is still the centre of the story, but while the first film used it to make her endearingly gawky, this one merely uses it to embarrass her; she's pathologically tactless, clumsy and obsessive. It's a fundamental sequel mistake, emphasising the wrong side of the main character's personality. And even her physicality is inappropriate--Bridget looked full-figured yet lovely in the first film, but here she's lumpy and awkward. It's impossible for us to like her now, and we don't believe Mark's undying love.

That said, Zellweger plays Bridget with flashes of spark and wit that keep us smiling. Firth is charming and intriguing, Grant has all the funniest lines, and the best sequence belongs to them both: the rematch bout! Phillips' is hilarious as Bridget's best pal, and gets more to do this time, travelling to Thailand with Bridget for adventures of her own. Although this segment devolves into one of the most appalling sequences in cinema all year (it involves a Thai prison and a Madonna song).

Basically the filmmakers lost touch with the real world that made the original film so enjoyable. The strong song score alternates between witty and obvious. The diary framework is only used sporadically. And what's left are mere glimpses of sharp insight, clever writing and astute acting. There's just no way the filmmakers can sell the emotional conclusion after making their central character a slapstick laughing stock.
| | | |
| --- | --- | --- |
| | adult themes, language, innuendo | 30.Sep.04 |


Angie, Norwich:

"A disappointing sequel which had me checking my watch towards the end. The film makes Bridget a sad and verging-on-insane bunny boiler, rather than the likeable if slightly paranoid singleton of the first film. The story was significantly different from the book, making it much less interesting and shallow in parts, particularly in the Thai jail scenes, to the point of being ridiculous. During the film I found myself wondering why Mark Darcy was bothering with her, rather than rooting for her as I was in the first film. And that is where this film really goes wrong - you just can't like or identify with Bridget anymore - and you certainly wouldn't admit it if you did!" (13.Nov.04)

Karlo, Rome:

"I think is rather obvious that we can still love Bridget v. much, just as she is. She's the perfect modern heroine: smart, funny, loyal, able to laugh at herself even when tormented by her insecurities. And it's not hard to see where her insecurities comes from when the media are constantly trying to sell us the idea that there's a heterosexual man on the planet who wouldn't drag himself over glass shards to date RenÈe Zellweger, even if she weighs 20 pounds more than usual (i.e., weighs as much as she's actually supposed to). As a man, I can perfectly understand why Mark Darcy adores her: intelligent men today want something more in a woman than a fake, plastic Hollywood stereotype." (28.Feb.06)