R E V I E W B Y R I C H C L I N E
dir-scr Pedro Almodóvar
with Gael Garcia Bernal, Fele Martinez, Fran Boira, Javier Camara, Daniel Gimenez Cacho, Lluis Homar, Francisco Maestre, Ignacio Perez, Raul Garcia Forneiro, Alberto Ferreiro, Petra Martinez, Leonor Watling
release UK 21.May.04; US 19.Nov.04
El Deseo
04/Spain 1h44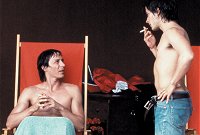 Who are you and what do you want: Martinez and Bernal




• TOP 10 FILM


Almodovar returns to All About My Mother's saturated melodrama with this noir thriller that plays breathtakingly with identity and reality to the point that we're both deeply mistrusting of each person in the story ... and able to identify with them profoundly.

In 1980 Madrid, up-and-coming filmmaker Enrique Goded (Fele Martinez) is reintroduced to his old school friend Ignacio (Bernal). Over the past 16 years, both have struggled with memories of abuse at the hands of their teacher Father Manolo (Cacho); and while he's happy to be reunited with his "first love", Enrique feels that Ignacio has changed just a bit too much. Still, Ignacio's wrenching story gives him inspiration for his next movie project. And as production begins, truths begin to dawn, secrets are unveiled and everyone discovers long-suppressed truths about their past and present.

As we expect from Almodovar, this is vivid, colourful filmmaking with frequent touches of outrageous flamboyance, nearly overwhelming sexual tension and astutely political parallels. As the story twists and turns, deepening and grabbing hold of us, it takes on layers of meaning that tap into our cherished ideas of who we are and how we relate to each other. The film is gorgeously assembled, written in a series of flashbacks, a film within the film and sequences that capture the inner workings of the characters' minds. It's also beautifully shot (by Jose Luis Alcaine) and scored (by Alberto Iglesias), and the acting is exquisite!

As the story's femme fatale, the incredibly game Bernal snakes through each scene, often in drag or seductively under-dressed to work his magic on others, whether knowingly or not. And his a damaged innocence seduces us as well! Martinez, Cacho and Homar (as the older, changed Manolo) give complicated performances with moments of raw power that stab us to the core, while Camara is a blast of fresh air in a too-brief comic role. And the child actors (Perez and Forneiro) capture the young Ignacio and Enrique with moving intensity--you'll never hear "Moon River" in quite the same way again! Almodovar is drawing on his own childhood, blending memories and fiction masterfully in a gripping story that keeps pulling the rug out from under us. Villains, abusers and victims are continually shifting right up to the sting in the tip of the tale.
| | | |
| --- | --- | --- |
| | themes, language, sex, drugs | 14.Apr.04 |