SHADOWS ON THE WALL | REVIEWS | NEWS | FESTIVAL | AWARDS | Q&A | ABOUT | TALKBACK

SHADOWS ARTHOUSE FILMS '04
Films unlikely to be showing at your local multiplex...
On this page: I'M NOT SCARED | INTIMATE STRANGERS
THE MANSON FAMILY | MEMORIES OF MURDER | PING PONG
< < M O R E | M O R E > >
More mainstream art films have their own pages.
Other offbeat films are at: SHADOWS FILM FESTIVAL | SHORT FILMS
last update 18.Jun.04

I'M NOT SCARED [Io Non Ho Paura]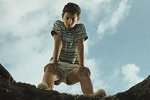 dir Gabriele Salvatores • scr Niccolo Ammaniti
with Giuseppe Cristiano, Aitana Sanchez-Gijon, Dino Abbrescia, Mattia Di Pierro, Giorgio Careccia, Giulia Matturo, Diego Abatantuono, Stefano Biase, Adriana Conserva, Antonella Stefanucci, Michele Vasca, Fabio Tetta
release Italy 14.Mar.03, US 9.Apr.04, UK 11.Jun.04 • Miramax 03/Italy 1h42


REVIEW BY RICH CLINE

This gorgeously filmed tale of friendship and loyalty is also an involving coming-of-age thriller. It's 1978 in Southern Italy, and 10-year-old Michele (Cristiano) is enjoying his summer, running through the wheatfields and exploring abandoned houses with his friends and his little sister (Matturo). Then one day he discovers a covered pit in which a wild little boy (Di Pierro) is imprisoned. What feels like just another adventure to Michele soon grows into a giant mystery as he struggles to make sense of a series of discoveries about who this boy is and who's responsible for keeping him there.


This film has such a vivid visual style that we are immediately transported to the parched Italian summer, with its golden fields, brilliant blue skies and brightly coloured clothing. Director Salvatores skilfully captures the muscular physicality of the time and place--these little boys are feisty and energetic. And the film gets under the skin too, as they discover who they can trust and who has their best interests at heart. This is extremely clever filmmaking--writing, directing, production design that's perhaps a bit too slick, in a Miramax/Chocolat sort of way. But it mixes elements of mystery thrillers, adventure fantasies and ghost stories to take us deep into this 10-year-old's mind.
Performances are all spot-on, from the excellent (and novice) child cast to solid supporting adults like Sanchez-Gijon (A Walk in the Clouds) and Abbrescia as Michele's parents, Careccia as his friend's eerily offbeat older brother, and especially Abatantuono (who was also in Salvatores' Mediterraneo) as a stranger who's both mischievous and terrifying. All of this combines to create one of the sweetest scary movies in recent memory! Watching Michele learn both positive and negative realities about the world around him is fascinating; and it's deeply moving to see him discover truths about himself. There's almost a fairy tale quality to the overall film--comforting and frightening at the same time, leading up to a fateful act of either bravery or foolishness. Or maybe both. [15 suspense, violence, language] 3.Jun.04

INTIMATE STRANGERS [Confidences Trop Intimes]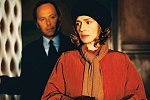 dir-scr Patrice Leconte • scr Jerome Tonnerre
with Fabrice Luchini, Sandrine Bonnaire, Anne Brochet, Gilbert Melki, Helene Surgere, Michel Duchaussoy, Laurent Gamelon, Urbain Cancelier, Isabelle Petit-Jacques, Veronique Kapoian, Benoit Petre, Alberto Simono
release France 25.Feb.04, UK 18.Jun.04 • StudioCanal 04/France 1h44


REVIEW BY RICH CLINE

Chameleon-like filmmaker Leconte tackles a Hitchcock-style romantic thriller with this enjoyably atmospheric, deeply engaging mystery. Paris tax lawyer William (Luchini) is frozen in place when a beautiful stranger, Anna (Bonnaire), mistakes him for a psychologist and suddenly tells him the deepest secrets of her life. Afraid to admit who he really is, he listens, and then calmly books another appointment! But even after she knows the truth, she continues her sessions, which grow increasingly complicated by the real shrink down the hall (Duchaussoy), William's grouchy secretary (Surgere), his still-in-love ex (Brochet) and Anna's pathologically jealous husband (Melki). Or is anyone really like we think they are?
This is one of those films that delights in playing with the audience, dropping little clues here, red herrings there, while unpeeling each person slowly before our eyes. Like the characters themselves, we are constantly surprised by every fact we discover about them. Misunderstandings and cloudy motives obscure the truth--if it's there at all--and we soon realise that no one is remotely as innocent as they seem. All of this is brilliantly played by the cast, especially the wide-eyed Luchini and the offhandedly sexy Bonnaire, who generate chemistry even when we believe nothing will happen between them. Or perhaps it will.
Leconte directs it expertly, establishing the lurid tone at the beginning and carrying a darkly shadowed colour code through the film right to the gleaming finale. Each set is full of clues about the characters that live and/or work there, and Leconte delights in giving us detailed glimpses into their lives, slowly widening the story until we have the whole picture at the very end. The result is a film that gets increasingly both sexy and scary, simply because we're never sure what will happen next, all while we develop a firm bond with characters who, like us, are simply trying to make sense of their lives, stay alive, and find someone to both trust and love. Superb! [15 themes, language, innuendo] 8.Jun.04

---
R E A D E R R E V I E W S
IndigoJen, Los Angeles: "I saw it on the strength of your review, and loved it; thanks! I enjoyed the 'Is he, or isn't she?' ambiguity, and the ending that hinted of what might happen, without a big happily-ever-after Hollywood finish." (10.Sep.04)

THE MANSON FAMILY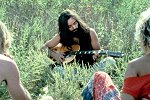 dir-scr Jim VanBebber
with Marcelo Games, Marc Pitman, Leslie Orr, Maureen Allisse, Amy Yates, Jim VanBebber, Tom Burns, Michelle Briggs, Carl Day, Valerie Hatt, Don Keaton, Nate Pennington
release US 1.Jan.03, UK 23.Jul.04 • 03/US 1h35


REVIEW BY RICH CLINE

It took writer-director VanBebber 15 years to finish this film, an ambitious but low-budget exploration of the Manson family murders in August 1969. The result is seriously unsettling in its inventive use of film styles to create a behind-the-scenes look at a shocking event.
The story is told as a journalist (Day) pieces together a stack of footage into a 1996 TV documentary about Charles Manson (Games). He's got both old and new interviews with Manson's "family" members, as well as extensive home movies of the cult's sex-and-drugs lifestyle in the 1960s. What emerges is a story of drug-addled power and passion, in which a bunch of free-loving young people become increasingly paranoid until they lose the ability to see outsiders as human beings, so brutally killing them is the natural next step.

There's a raw honesty here, and a legitimate attempt to get under the skin of the whole story that makes the film worth watching. The narrative drive as these happy young people drift into extreme darkness is quite compelling, and Pitman is very good as the focal character Tex. But the raw imagery is extremely hard-going, and VanBebber's attempt to draw parallels with modern-day tattooed and pierced freaks doesn't work at all. The quality of the acting doesn't help either; performing documentary-like scenes is very difficult, and this cast simply isn't up to it. They carry the dramatic scenes with earthy energy, but in the interviews they feel like actors, which makes the whole film feel stilted and contrived.
What does work is the way VanBebber mixes film genres in a thoroughly involving way--scratchy old footage, dimly lit video, free-flowing home movies and standard thriller sequences are combined like a 1960s exploitation movie, complete with extensive nudity and gore. Despite the wobbly acting, the film looks great. But there's a much deeper problem: This is a true story about real people! The gleeful tone of the horrific murder scenes is in extremely bad taste, even if the villains are actually victims as well. [18 strong themes, violence, language, sex, nudity, drugs] 2.Jun.04

MEMORIES OF MURDER
dir Bong Joon-ho • scr Bong Joon-ho, Shim Sung-bo
with Song Kang-ho, Kim Sang-kyung, Kim Rwe-ha, Koh Seo-hee, Song Jae-ho, Byun Hee-bong, Jeon Mi-seon, Park No-shik, Ryu Tae-ho, Park Hae-il, Choi Jong-ryol, Kim Ha-kyeong
release UK 13.Aug.04, US 15.Jul.05 • 03/Korea 2h07


REVIEW BY RICH CLINE

Based on a true story, this is one of the most intriguingly made cop films in years, simply because director-cowriter Bong refuses to fall into the over-worn trappings of the genre. He takes a strikingly original approach that draws authentic suspense and emotional resonance from real events.
It's 1986 in small-town Korea, before forensic methods were in standard practice. Detective Park (Song Kang-ho) is struggling to solve a series of gruesome murders using instinct and brute force, rounding up the usual suspects and then terrorising them with his thuggish partner Cho (Kim Rwe-ha). Then Detective Seo (Kim Sang-kyung) arrives from Seoul with his modern, analytic approach. Soon Park and Seo are at each others' throats, clashing as they hunt down the increasingly vicious killer. But desperation has a way of blurring the differences between them.


Since this really happened, the plot refreshingly refuses to fit standard movie structures, and Bong that never tries to graft it onto that tried (and tired) Hollywood formula. Instead he digs deep into these two very different detectives--they are the story, not the killer or victims! He fills the movie with attitude and wit, as well as sudden bursts of action, fear and comedy. The result is bracingly powerful--entertaining, thrilling, funny and startlingly moving. The film is also impressively well-made, with beautiful and inventive cinematography, a clever sound mix and an evocative score.
Meanwhile, performances are superb; both leading men take us into their characters' inner lives through quiet actions and reactions, while the script fleshes them out in other ways. These are men who don't want mystery or even evidence; they just need resolution! We also get to know several other officers--their superiors and inferiors in the chaotic police station--as well as a string of suspects who grow increasingly desperate to prove their innocence as the cops get increasingly frantic to wring out a confession. Or kill them trying. This is one of the finest police thrillers in years, and further proof that Asia is making some of the best films on the planet at the moment. [15 themes, grisliness, violence, language] 6.Jul.04

PING PONG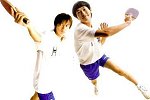 dir Fumihiko Sori • scr Kankuro Kudo
with Yosuke Kubozuka, Arata, Sam Lee, Shido Nakamura, Koji Ookura, Akira Nishihara, Mikio Sato, Erika Mabuchi, Asumi Miwa, Shinji Yamashita, Mari Natsuki, Ayumu Moriyama
release Japan 20.Jul.02, UK 30.Jul.04 • 02/Japan 1h54


REVIEW BY RICH CLINE

A huge hit in Japan, this film is so endearing and entertaining that it's hard to understand why it hasn't gone on to take the world by storm ... igniting a ping pong craze in the process! It's the story of two lifelong friends: the cocky Peco (Kubozuka) and the sulky Smile (Arata). Both have a love for table tennis, but while Peco wins by sheer drive and ambition, Smile succeeds through sheer innate talent, which he almost resents. Now in their late teens, they're facing strong competition from their childhood friends and nemeses in the local championships: Dragon and Demon (Nakamura and Ookura) run the shaven-headed rival team, and there's also a new challenge from a know-it-all Chinese player (Lee). But the real question is whether Peco and Smile's friendship can survive.
The film has an energetic visual style that really makes the most of its characters and settings, as well as the cutthroat action on the ping-pong tables. These are serious athletes, and the game is played with life-or-death vigour, discipline and inner resolve! The film is very cleverly structured to draw this out while also maintaining a comical tone and a vivid sense of character that keeps us thoroughly gripped. Kubozuka and Arata beautifully portray friends who grow apart as they grew up; Peco's increasingly instense force of will is a remarkable contrast to Smile's nice guy with no killer instinct.
There are even echoes here of Amadeus, as characters struggle against the idea that some people are simply born with superior gifts, while others work all their lives and never amount to anything. And the side characters have an unusual depth as well, from Peco's Sharon Stone-wannabe granny, who runs a ping-pong dojo, to Smile's coach Butterfly Joe, who's haunted by his past. The film could have perhaps used a bit of romantic entanglement to heat things up, but it intriguingly hints at issues of sexuality here and there while centring on the friendship between Peco and Smile. And it's in this friendship that the film finds its voice--and a surprisingly strong message as well. [12 some language] 15.Jun.04