HOME | REVIEWS | NEWS | FESTIVAL | AWARDS | Q&A | ABOUT | TALKBACK

SHADOWS ARTHOUSE FILMS '04
Films unlikely to be showing at your local multiplex...
On this page — films from the British Film Institute's 18th London Lesbian & Gay Film Festival, Mar-Apr.04
THE BULGARIAN LOVERS | PROTEUS | THE RASPBERRY REICH | TEKNOLUST | 200 AMERICAN
< < M O R E | M O R E > >
More mainstream art films have their own pages.
Other offbeat films are at: SHADOWS FILM FESTIVAL | FESTIVAL SHORTS
last update 20.Mar.04

THE BULGARIAN LOVERS [Los Novios Bϊlgaros]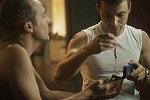 dir Eloy de la Iglesia • scr Fernando Guillen Cuervo, Eloy de la Iglesia
with Fernando Guillen Cuervo, Dritan Biba, Anita Sinkovic, Pepon Nieto, Roger Pera, Fernando Albizu, Roman Luknar, Gracia Olayo, Simon Andreu, Julia Martinez, Emma Penella, Oscar Iniesta
release Spain 30.Apr.03, UK 6.Apr.04 llgff, US 30.Apr.04 • 03/Spain 1h41


REVIEW BY RICH CLINE

This quirky romantic triangle is thoroughly engaging, even if the story feels rather too underdeveloped to grab us emotionally. But the characters are enjoyably complicated, the situations amusingly farcical, and the film itself is sexy, funny and surprisingly edgy. The story is narrated, often straight-to-camera, by Daniel (cowriter Cuervo), a lawyer who falls into a relationship with the young Bulgarian Kyril (Biba) even though he knows better. Not only are Eastern Europeans notoriously unreliable and suspicious, but the way Bulgarians nod their heads for no and shake their heads for yes causes all sorts of misunderstanding! But there's more trouble: Kyril brings his fiancee Kalina (Sinkovic) to Spain and both move in with Daniel, where they quickly take over! Meanwhile, Daniel starts suspecting that Kyril is up to something illegal.


With its immigrants-take-over plot, the film is reminiscent of Birthday Girl, although the caper elements here never take over. It's like a thriller waiting to happen--red herrings abound, but in a comical sort of way, especially when Daniel's camp friend Gildo (Nieto) is on screen. Frankly, we don't want the film to turn into either a zany comedy or a big underworld adventure. These disparate elements weaken the film's much more involving romantic storyline, as does the fact that Kyril is never going to be Daniel's boyfriend. Cuervo is so sympathetic that we really root for him to find real love, and this clearly is not it! Despite this lack of emotional resonance, it's well enough filmed to keep us engaged--lively editing, funky score (by Antonio Meliveo), silly-but-telling fantasy sequences, deadpan narration. It's also surprisingly sexy as these characters swirl around each other seductively, exploring the cost of love in their lives. The basic message is rather nice as well: Love is worth the trouble, even if it takes you to Bulgaria and back. [themes, language, sex, nudity] 15.Mar.04 llgff

PROTEUS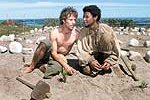 dir-scr John Greyson, Jack Lewis
with Rouxnet Brown, Neil Sandilands, Shaun Smyth, Kristen Thomson, Brett Goldin, Grant Swangy, Andre Samuels, Jeroen Kronenburg, Tessa Jubber, Terry Norton, Adrienne Pearce, Dean Lotz
release UK 4.Apr.04 llgff, US 30.Jul.04 • 04/South Africa 1h37


REVIEW BY RICH CLINE

This true story from 18th century South Africa has tremendous echoes now, so much so that filmmakers Greyson and Lewis drop subtle anachronisms here and there--a transistor radio, concrete and barbed wire, 1960s-vintage court reporters, a prison guard in Nazi dress. These things never drag us out of the story; rather, they reinforce the themes and make them incredibly vital.
In 1725, the mischievous Hottentot Claas Blank (Brown) is sentenced to 10 years at Robben Island prison, where he's belittled by the cruel guards as a simple native even though he can read and write at least three languages. Scottish botanist Virgil Niven (Smyth), working nearby, sees Claas' intelligence and offers him a job helping him classify the local plant life. But there are other things going on here: Niven is so closeted that even his wife doesn't suspect that he might be sleeping with his assistant, Laurens (Goldin). And over the years, Claas develops a slowly dawning love affair with a sardonic Dutch prisoner, Jacobsz (Sandilands). These relationships will be severely tested at a time when homosexual love is punishable by death.

The title comes from the name of the local sugarbush plant, which Claas helps Virgil classify. And the film plays gently with legends and stories as it weaves its tale--Claas initially tries to throw Virgil off the track of the truth, until he begins to see the man behind the imperialist. Greyson and Lewis write and direct the film with a raw beauty that draws us in completely; the bleached cinematography is somehow sumptuous, and it's inventively edited--lively and realistic, often funny and sometimes quite horrific. Through it all there are two extremely complicated love stories, skilfully played by the actors. Where Virgil and Laurens' relationship is all invisible subtext, Claas and Jacobsz are much more physically expressive. But their fate is the same, even though all four face it in very different ways. These relationships couldn't be much more forbidden, crossing lines of sexuality, race and class. And each man has a distinctly different level of shame about this, which when combined with the filmmakers' imaginative skills makes the story powerfully moving. And very important today. [themes, language, sex, violence] 19.Mar.04 llgff

THE RASPBERRY REICH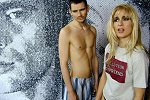 dir-scr Bruce LaBruce
with Susanne Sachsse, Daniel Batscher, Andreas Rupprecht, Dean Stathis, Anton Z Risan, Daniel Fettig, Gerrit, Joeffrey, Ulrike Schirm, Stephan Dilschneider, Sherry Vine, Punktchen
release US 17.Jan.04 Sundance; UK 5 April 2004 llgff • 04/Germany 1h30


REVIEW BY RICH CLINE

Gonzo Canadian filmmaker LaBruce is back with another in-your-face movie that combines elements of political satire, social commentary and pornography. It's just as uncomfortable to watch as his previous films (Hustler White, Skin Flick), but this one has a sense of humour that completely disarms us. For once, LaBruce is letting us know that his tongue is firmly in his cheek, and as a result the film is actually both entertaining and telling.
Gudrun (Sachsse) is a revolutionary leader who wants to liberate people from sexual, political and social tyranny. With her band of cohorts, she plots to kidnap the son of a wealthy industrialist (Rupprecht) while encouraging her little gang to shake up the public with antics of their own. Make (revolutionary) love not (idealistic) war!" she cries. "Heterosexuality is the opiate of the masses," she wails, making a rather surprisingly strong point before going on to demand boy-on-boy action among her supposedly straight comrades. But they take it to heart and start falling in love with each other. Which of course makes Gudrun even angrier, since they're adopting the monogamous societal forms she's fighting so strongly against.

The film is shot in LaBruce's typically chaotic style, with jarring editing and cheesy techno-trash music, terrible sound recording and exceptionally amateurish acting. But under all of this, it's actually quite well filmed, and all of the goofy awkwardness has a point. It's not subtle at all--images of sex and guns are explicit and disturbing, as are the ubiquitous larger-than-life faces of revolutionaries and politicians, as well as constant on-screen propaganda and to-camera speeches. But whether all of this is preachy, silly or sarcastic is left up to you. And whatever you think, LaBruce has several strong points to make about how society has become anaesthetised--old and young alike--giving away our humanity to governments, ideologies and corporations. And in a world that's gripped by terrorism, it's both brave and essential to make films about terrorists, especially when they peel away the layers like this one does! Yes, it's a manic, jumbled, impertinent mess. But it's also provocative in all the right ways. [18 strong themes, sex, language, nudity] 19.Mar.04 llgff

TEKNOLUST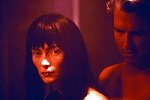 dir-scr Lynn Hershman-Leeson
with Tilda Swinton, Jeremy Davies, James Urbaniak, Karen Black, Al Nazemian, Josh Kornbluth, Thomas Jay Ryan, Howard Swain, Diana Demar, Dick Bright, Brad King, John Pirruccello
release US 20.Feb.04, UK 25.Mar.04 llgff • 03/US 1h25


REVIEW BY RICH CLINE

This sweetly surreal futuristic comedy definitely marches to the beat of its own bizarre rhythm! While it's corny and a little chaotic, it's also full of wonderful little touches and even an undercurrent of meaning. And there's a terrific four-part performance by Swinton!
Rosetta Stone (Swinton) is an unassuming scientist who has secretly made three clones of herself: Ruby, Olive and Marinne, who live in a colour-coordinated flat where Rosetta protects them from the real world. But Ruby has to go out, vampire-like, to procure the needed proteins ... which are only contained in human semen! To avoid attachment, her male liaisons are usually just one-night affairs, most of whom of course find her deeply irresistible. As the three identical but very different clones study what it is to be human, they yearn for more independence. And as Ruby starts to fall for a neighbour (Davies), a government agent (Urbaniak) and a zany private detective (Black) begin to close in on Rosetta.

Writer-director Herschman-Leeson fills the screen with vivid colours--from the retro stylings of the mousy brunette Rosetta to the sleek space-age look of the black-haired Ruby's red, the blonde Olive's green and the redheaded Marinne's blue rooms and clothing. This lurid visual impression combines with a quirky nuttiness to make the film an extremely vivid experience! Swinton and the other actors have a ball with the playful, oddly paced script, which refuses to follow cinematic rules, even as it continually makes us laugh and draws out the personality of each character. And there are some sharp points here too--comments on the ethics of cloning, computer viruses, personal destiny. Not to mention an Aids parallel with a contagious blood anomaly and the artificial semen Rosetta creates to sidestep Ruby's dangerous behaviour. Perhaps it's all too loaded with ideas. Or maybe it's just silly and muddled! Whatever, it's entertaining and maddening in about equal measure, and in the end the film's warm nature wins us over if we let it. [R themes, innuendo] llgff

200 AMERICAN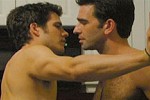 dir-scr Richard LeMay
with Sean Matic, Matt Walton, Anthony Ames, John-Dylan Howard, Spencer Aste, Jason Durishin, Mark Ford, Gail Herendeen, Constance Reardon, Lucy Smith, Jill Nicklaus, Rick Poli
release UK Mar.04 llgff • 03/US 1h24


REVIEW BY RICH CLINE

Here's another low budget American indie that shows promise but falters in its finer points--editing, story structure, score. Other problems are more fundamental, but the film is strong enough to keep us engaged. Conrad (Walton) is a New York ad executive who's devastated after the break-up of a three-year relationship with Martin (Howard). He's not ready for a new relationship, so he hires an Australian escort named Tyler (Matic), then offers him a job to keep him off the streets ... and in his bed. Meanwhile, Tyler has problems of his own, earning enough money to pay a woman (Herendeen) to marry him so he can get a US visa. And when Conrad's art director (Ames) starts falling for him, he's in real trouble.
Basically this is a story about finding the strength to make personal changes in yourself while accepting imperfections in others. This is an excellent message, even though the filmmaking approach is rather corny. Fortunately, the performances are strong, especially from the good-looking central trio, who bring a nicely natural feel to the dialog (despite Matic's rather ropey Aussie accent). And LeMay's script handles its central shift nicely, as Conrad's control freak nature becomes more and more apparent, moving him from protagonist to the film's least-sympathetic character.


And yet while there are some nice wrinkles in the various relationships and friendships, as a director LeMay is far too timid. There's no chemistry between any of the characters, as LeMay pans away weakly from anything remotely sexy. Even the most convincing relationship is limited to one extremely chaste kiss and a brief, awkward cuddle. And it doesn't help that the cheesy background music is like a cross between a TV movie-of-the-week and porn, or that many scene transitions are jarring, and some clunky sequences really should have been re-shot. Still, there's enough here to keep us watching--and the shadings in the characters make this much better than most micro-budget projects. [themes, language, innuendo] 15.Mar.04 llgff