HOME | REVIEWS | NEWS | FESTIVAL | AWARDS | Q&A | ABOUT | TALKBACK

SHADOWS ARTHOUSE FILMS '04
Films unlikely to be showing at your local multiplex...
On this page: BUS 174 | DR REY | FESTIVAL EXPRESS
NOT ON THE LIPS | THE STORY OF THE WEEPING CAMEL
< < M O R E | M O R E > >
More mainstream art films have their own pages.
Other offbeat films are at: SHADOWS FILM FESTIVAL | FESTIVAL SHORTS
last update 11.Mar.04

BUS 174 [Ônibus 174]
dir Jose Padilha
with Sandro do Nascimento, Yvonne Bezerra de Mello, Rodrigo Pimentel, Luiz Eduardo Soares
release Brazil 6.Dec.02, US 8.Oct.03, UK 30.Apr.04 • 02/Brazil 2h02


REVIEW BY RICH CLINE

This gripping documentary not only digs beneath the surface of one of the most outrageous events in Rio de Janeiro's history, but it also examines more universal issues about Brazilian society and the world as a whole. Director Padilha somehow got access to all of the television footage of this event, which he edits like a multi-camera thriller. And while the material and story are excellent, he obviously has trouble leaving anything out. This over-indulgence slightly weakens what could be an even more crackling, exciting, insightful doc.
On Brazilian Valentine's Day in June 2000, a desperate young man takes bus number 174 hostage, leading to a four-and-a-half-hour siege on the streets of Rio, which the entire nation watched live on TV! But there are two things the viewers didn't know, both of which are interspersed here: First is the background of the protagonist, Sandro do Nascimento, a very interesting young man who survived another seminal event--the 1993 Candelaria massacre, when Rio's cops opened fire on a crowd of street children, killing eight of them. Second is the behind-the-scenes drama on the bus, which is narrated for us by the survivors.


This is a grippingly powerful film that has implications far beyond the incident it's deconstructing. It should have been much more tightly edited; at least a half hour could be removed, which would make the film much more focussed and stronger. Yet the main story is still increasingly tense and harrowing, and Padihla brilliantly brings out the complexities that run through it all. Especially the fact that, at the time, the cops and public merely saw a bad guy who needed to be killed, just like at the end of a Hollywood movie. Through interviews, background footage, old home movies and expert commentary, Padilha brings out remarkably shadings, painting a picture of a society where the "social invisibility" of poverty can be fatal. This is a side of modern civilization no one wants to acknowledge, especially in supposedly more enlightened countries of North America and Western Europe. But this film chillingly and tragically shows where all of our denial will lead us. [15 themes, violence, language, nudity] 3.Mar.04

DR REY [Merci Docteur Rey]
dir-scr Andrew Litvack
with Dianne Wiest, Stanislas Merhar, Jane Birkin, Bulle Ogier, Karim Salah, Didier Flamand, Nathalie Richard, Dan Herzberg, Simon Callow, Roschdy Zem, Jerry Hall, Vanessa Redgrave
release France 3.Dec.03; UK 20.Aug.04 • 02/France 1h31


REVIEW BY RICH CLINE

Entertainingly camp and unhinged, this wacky French farce is worth watching, even though it kind of fizzles out at the end. But for fans of lurid wackiness, there's plenty to enjoy here! The story centres on 23-year-old Thomas Beaumont (Merhar), whose mother Elisabeth is a top opera diva (Wiest). Thomas is lonely, looking for love in all the wrong places when he witnesses a horrific event that he finds out later is intimately linked to his own past. He runs to the psychologist Dr Rey, but mistakenly confesses all to the completely mad Penelope (Birkin), who's sitting in the doctor's office after an incident of her own. From here we meet a mysterious stranger (Salah), Elisabeth's diva pal (Ogier) and a twitchy cop (Flamand), and everyone is trying to get to the bottom of a series of events that have profound implications for Thomas.


Litvack's script is increasingly farcical as the complex interrelationships of the characters are unveiled and develop. There's some vaguely interesting subtext in here, but most of that is ignored to make way for the rambunctious plot, which blends goofy comedy with a murder mystery in ways that are sometimes hilarious and other times very awkward. The acting is intensely broad (sometimes too much), but no one plays a diva like Wiest and she's on great form here. As is the divine Ogier. Meanwhile, Birkin is just completely nuts, while Merhar is so subdued and mopey that you sometimes think he's in another film altogether. The cameos from Callow, Zem, Hall and especially Redgrave are terrific. All in all, this is a clever and enjoyable romp with twisty story full of hilarious running gags. It only disappoints as the climax approaches and Litvack seems unsure where he's going--the story drags badly in the final act and then concludes on a corny note that feels like a terrible cop-out. But then, considering what went before, maybe that's appropriate! [15 themes, language, innuendo, violence] 2.Mar.04

FESTIVAL EXPRESS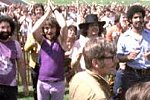 dir Bob Smeaton
with Janis Joplin, Grateful Dead, The Band, Buddy Guy Blues Band, The Flying Burrito Bros, Delaney & Bonnie & Friends, Sha Na Na, Mashmakan, Ian & Sylvia & The Great Speckled Bird, Ken Walker
release US 23.Jul.04, UK 3.Sep.04 • 03/UK 1h30


REVIEW BY RICH CLINE

In the summer of 1970 a group of top musicians took a groovy tour across Canada by train, playing concerts in Toronto, Winnipeg and Calgary. But the trip was just as notable for the antics aboard the train as for the music they played! Now more than 30 years later the footage is finally edited into a documentary, complete with new interviews. It's a thoroughly enjoyable film for several reasons, mainly the music. This is the pure thing: raw, uncluttered rock and roll! The live performances simply make most of today's pop acts look like the manufactured hacks that they are. The Band, the Grateful Dead, Janis Joplin, Buddy Guy--these are astonishingly talented artists who seem to play effortlessly. It's simply impossible to pick a highlight. And the film captures not only their energetic stage acts but also impromptu on-board jam sessions and such off-stage antics as their emergency stop in Saskatoon to restock the train's bar.
Filmmaker Smeaton compiles this material skilfully, showing the events mostly from the musicians' perspective. The footage is extremely well filmed and edited, often using split screen to get even more material out there. Not only do we get a feel for the free-spirited 70s lifestyle, but we also see crowds of fans fighting against commercialism and tyranny ... so they can get free concert tickets! It's a clever look at the period, even if it does slightly sidestep the politics. The comments of promoter Walker add both comic value and insight, as do memories of people 30 years later. This was an experience that's perhaps more notable to the artists than to the fans--living on a train as it travelled across the Canadian wasteland was like summer camp! Yet even with the passing of years, no one seems willing to spill the dirt on everything they got up to on the train. Although we get a pretty good idea. [15 some language] 11.Mar.04

NOT ON THE LIPS [Pas Sur la Bouche]
dir Alain Resnais • scr Andre Barde, Maurice Yvain
with Sabine Azema, Isabelle Nanty, Audrey Tautou, Jalil Lespert, Lambert Wilson, Pierre Arditi, Daniel Prevost, Darry Cowl, Nina Weissenberg, Francoise Gillard, Berangere Allaux, Toinette Laquiere
release France 3.Dec.03, UK 30.Apr.04 • Pathe 03/France 1h57


REVIEW BY RICH CLINE

Without rewriting the libretto, French filmmaker Resnais puts this 1925 operetta right up there on the big screen in three acts, only making it cinematic with a clever camera work and actors who deliver subtle un-stagey performances, even though the story is utter silliness. Gilberte (Azema) is a flirtatious society dame in Paris who has successfully hidden her first marriage to the American businessman Eric (Wilson) from her possessive husband Georges (Arditi). Gilberte is pursued by her old friend Faradel (Prevost) while shamelessly seducing the young artist Charley (Lespert), who's pursued by Gilberte's lovestruck young friend Huguette (Tatou). When Eric arrives in Paris to set up a business deal with her husband, Gilberte finally begins to panic. And her airhead sister Arlette (Nanty) won't be much help.


The comings and goings and threats of relational carnage at every turn are pure French farce, and Resnais juggles it with the help of a lively cast and ingenious cinematic playfulness. The camera swoops and prowls around the sets in long takes that soak up the lush costumes and art direction, while the witty songs take jabs at every aspect of 1920s society. It's a feast for the eyes and ears! And the stage origins don't limit it at all--each act plays out in real time as we realise that every character is up to something, either innocent or not. The songs are catchy and infectious, with teasing lyrics that are inventively translated in the subtitles (which are slightly annoying read with all the colourful imagery!). And the performances are hilariously camp and broad, yet somehow manage to get beneath the surface. For example, Azema's Gilberte must finally put an end to her free-spirited trouble-making and decide what she really wants, and Arditi's Georges must finally stop living in denial. But this is not a serious film by any means; it's pure comical fluff that's sweetly predictable as it climaxes in Faradel's outlandishly decorated bachelor pad. Wonderful! [PG themes, innuendo] 12.Mar.04

THE STORY OF THE WEEPING CAMEL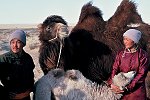 dir-scr Byambasuren Davaa, Luigi Falorni
with Janchiv Ayurzana, Chimed Ohin, Amgaabazar Gonson, Zeveljamz Nyam, Ikhbayar Amgaabazar, Odgerel Ayusch, Enkhbulgan Ikhbayar, Uuganbaatar Ikhbayar, Munkhbayar Lhagvaa
release US 4.Jun.04, UK 9.Jul.04 • 03/Mongolia 1h30


REVIEW BY RICH CLINE

There's a disarming charm to this virtually wordless drama from the distant wilds of Mongolia. It's a tale of two coexisting species, camels and humans, and it's surprisingly fascinating, funny and emotional. And it's fairly guaranteed to be unlike anything you've ever seen. At the end of the birthing season, an extended family of nomadic shepherds in the Gobi Desert gathers to help the last female camel give birth. But it's a very difficult delivery, and she rejects the white colt, leaving it to follow her helplessly around, moaning with hunger. The shepherds try everything to get the mother to reunite with her offspring, eventually sending two young boys (Enkhbulgan and Uuganbaatar) on a long camel ride to a nearby village to get a musician (Lhagvaa) to help them.
While the premise is disarmingly simple, the film resonates with an astonishing complexity, even though there's so little dialog and the two main characters are camels! But these animals have hugely expressive faces, and their interaction with each other and their human hosts is actually very meaningful. With their huge brown eyes and fluffy fur, they're almost like gigantic cocker spaniel puppies! Meanwhile, the filmmakers (who met at film school in Germany) capture the characters and the setting with gorgeous cinematography, expert sound mixing and accomplished editing that makes the film feel like both an intimate documentary of everyday life in the Gobi Desert and an engaging story of the interrelationship between man and nature. They elicit excellent performances from the entire cast, and tell their story with pacing and such integrity that it speaks far beyond the subject matter. This family refuses to take the artificial way out; they could just feed the colt themselves, but their goal is to restore the natural balance of life in a world that's been abused and exploited. This is a remarkable film that you'll have to look for ... but you'll be glad you did! [U themes, birthing grisliness] 8.Mar.04

---
R E A D E R R E V I E W S
Gene McGing, London:

"Such a wellspring of goodness seems to emanate from the community featured in the film, and from the message being conveyed by the story, that I moved into some kind of almost hypnotic sense of wellbeing, and warmth, and one single 'snore' (then abrubtly jolted out of it, much to the amusement of the family in front of me). Bizarre, but true, and I truly loved the film, and will be going back for another viewing very soon indeed." (20.Jul.04)