HOME | REVIEWS | NEWS | FESTIVAL | AWARDS | Q&A | ABOUT | TALKBACK

SHADOWS ARTHOUSE FILMS '04
Films unlikely to be showing at your local multiplex...
On this page: CARNAGE | OLD, NEW, BORROWED & BLUE |
ORPHEE | SWITCHBLADE ROMANCE | UTOPIA
< < M O R E | M O R E > >
More mainstream art films have their own pages.
Other offbeat films are at the SHADOWS FILM FESTIVAL.
last update 30.Jan.04

CARNAGE [Carnages]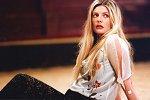 dir-scr Delphine Gleize
with Chiara Mastroianni, Lucia Sanchez, Angela Molina, Julien Lescarret, Raphaelle Molinier, Clovis Cornillac, Lio, Jacques Gamblin, Pascal Bongard, Marilyne Even, Bernard Sens, Esther Gorintin
release France 13.Nov.02, US 5.Sep.03, UK 12.Mar.04 • Studio Canal 02/France 2h10


REVIEW BY RICH CLINE

With echoes of Almodovar, filmmaker Gleize creates a colourful and rather outrageous ensemble drama for her first feature. But unlike Almodovar it's also somewhat pretentious. Five stories are connected by a young bullfighter (Lescarret) injured in the ring in southern Spain while a young girl named Winnie (Molinier) watches on TV in northern France. Each story unfolds in France as parts of the bull are distributed: The eyes go to a scientist (Gamblin) whose wife (Lio) is hugely pregnant; the horns go to a lonely taxidermist (Sens) who lives in a trailer with his mum (Gorintin); a bone goes to a huge dog kept in a small apartment by Winnie's parents (Bongard and Even); and a steak is served to a startled woman (Molina) having dinner with her teacher daughter (Sanchez). Meanwhile an actress (Mastroianni) is in a kind of living bullfight, looking for work and fighting for her life, then meeting a strange man (Cornillac) who helps her make sense of it.
Yes, there's a very heavy dose of fatalism here--the intertwining of birth and death, the circle of life, and so on. And while it's played out intriguingly through each of the plot threads, Gleize lays it all on a bit thickly with surreal sequences and sudden moments of contrived action that continually catch us off guard. It's beautifully filmed and laced with black humour (much of it is laugh-out-loud funny, and intentionally so), and the performances are excellent all around. But it's so off-beat that it's impossible to connect emotionally with the characters--they're fascinating symbols we watch because we're intrigued by what the filmmaker might to do them next. We never care about them at all. And as a result, the film feels indulgent, far too long and, yes, very French in the way it continually bats themes around without ever really dealing with anything. But while it lasts you can't take your eyes off the screen! And the ideas will swirl in your head long after the lights come up. [15 themes, language, gore, nudity] 20.Jan.04

OLD, NEW, BORROWED AND BLUE [Se til Venstre, Der er en Svensker]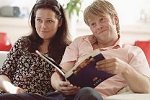 dir Natasha Arthy; scr Kim Fupz Aakeson
with Sidse Babett Knudsen, Bjorn Kjellman, Lotte Andersen, Soren Byder, Martin Buch, Lene Maria Christensen, Tina Gylling Mortensen, Jimmi Jorgensen, Jakob Lohmann, Peaches La von Tholstrup, Kristian Halken, Ida Dwinger
release Denmark 31.Jan.03; UK 6.Feb.04 effc • 03/Denmark 1h30


REVIEW BY RICH CLINE

Danish director Arthy followed the Dogme 95 Vow of Chastity to make this emotional romantic comedy, another effective movie made without any Hollywood bombast--no artificial lighting or sound, all handheld cameras, and so on. It's a winning film, cleverly bridging the real-life gap between comedy and tragedy.
At the centre is Katrine (Knudsen), a young woman planning her wedding to the lively and sweet Jonas (Byder) but unable to get up the courage to tell her sister Mette (Andersen). Mette has been in a psychiatric ward ever since her free-spirited Swedish boyfriend Thomsen (Kjellman) ran off without warning. And when Thomsen shows up on the eve of the wedding, it's one more thing Katrine can't tell Mette. But the real problem is the attraction Katrine and Thomsen feel for each other, and as they run wedding errands to find something old, new, borrowed and blue, the truth is bound to work its way out.
Because of the simplified filmmaking style, all of this develops on screen in a natural way that's thoroughly involving, even when a typically contrived rom-com script structure starts to show its face. But there are surprises at every turn (for example, how many comedies deal honestly with HIV?), and the actors deliver engaging performances that make their characters deeply recognisable. Knudsen is especially good, winning us over even as she continually does incredibly stupid things. And Thomsen is hilarious, with a shaggy dog lovability that actually expands when he adopts a shaggy dog. Even the raucous stag night and hen party have a streak of realistic chaos about them, complete with lashings of subtext. Meanwhile, Arthy pokes fun at Dogme with her use of music (the band appears on screen to perform live every time Mette turns on her ubiquitous Walkman). But the best surprise is story's serious undercurrent of emotion. Despite the silly climax, this is a complicated little romance that dares to ask questions at the end instead of tying everything up in a falsly neat little package. [themes, language] 21.Jan.04

ORPHÉE [Orpheus]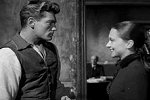 dir-scr Jean Cocteau
with Jean Marais, Marie Dea, Maria Casares, Francois Perier, Edouard Dermithe, Henri Cremieux, Juliette Greco, Roger Blin, Pierre Bertin, Maurice Carnege, Rene Worms, Jean-Pierre Melville
release US 29.Nov.50 • reissue UK 5.Mar.04 • 50/France 1h35


REVIEW BY RICH CLINE

This classic from French filmmaker Jean Cocteau is notable for its vivid and inventive imagery, bringing the Greek myth of Orpheus to the present day with style and passion that's both poetic and realistically gritty. Orphée (Marais) is a famous poet who neglects his faithful wife Eurydice (Dea) to hang out with his pals at the trendy Café des Poetes. But one day he witnesses an accident and is whisked away by a mysterious princess (Cesares) and her chauffer (Perier). Thus begins an odyssey between the worlds of the living and the dead as all four characters struggle for the souls of Orphée and Eurydice ... each for very different reasons. And Orphée is hardly equipped with the skills to make such important decisions on his own! Especially when Death is in love with him even more than he's in love with her.
While Cocteau struggles to overlay the mythology over Paris' 1950s art scene, the raw emotions in the complex story still come through. And almost every scene touched a kind of mad cinematic genius that's utterly unforgettable! He's basically creating gay iconography here, illustrating a story about a forbidden love with booted motorcyclists, flouncing artistes and even a dominatrix. He cleverly uses mirrors as a path between the two worlds, which communicate back and forth by radio signals. This is intriguing and very tricky filmmaking that never forgets the emotional core of the story, and even the rather wooden Marais is effective here as the confused Orphée. While the film basically belongs to the spiky diva Cesares and her meddling-but-selfless sidekick Perier. But it's Cocteau's blurring of reality, myth and fantasy that makes the film so startling, even now. It's impossible to imagine anybody ever making another film like this, and surely that is the definition of a masterpiece. Take advantage of any chance to see it on a big screen where it belongs. [PG themes] 29.Jan.04

SWITCHBLADE ROMANCE [Haute Tension]
US title: High Tension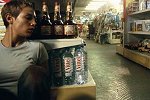 dir Alexandre Aja • scr Alexandre Aja, Gregory Levasseur
with Cecile De France, Maiwenn, Philippe Nahon, Franck Khalfoun, Andrei Finti, Oana Pellea, Marco Claudiu Pascu, Jean-Claude de Goros, Bogdan Uritescu, Gabriel Spahiu
release France 18.Jun.03, UK 16.Apr.04, US 10.Jun.05 • 03/France 1h25


REVIEW BY RICH CLINE

It's like Aja and Levasseur were out drinking absinthe (or whatever French filmmakers drink) when they decided to make "the scariest movie ever!" And you've got to hand it to them: They may have done it. This unsettling, relentless horror film is so gruesome that it keeps you squirming from start to finish. And it even has a strong twist at the end. But it's also disturbingly misogynistic.
Friends Marie and Alex (De France and Maiwenn) drive into the remote countryside to visit Alex's mother, father and little brother (Pellea, Finti and Pascu). But shortly after arriving, a vicious madman (Nahon) attacks the isolated farmhouse, violently murdering everyone he finds except Alex, who's bundled into the van so he can deal with her later. Meanwhile, Marie has managed to hide, and it's up to her to rescue Alex. But this ruthless killer is always a step ahead of her.


Aja and Levasseur (who also designed the film) make expert use of just about every horror movie element imaginable--creepy cornfield, shower and shower curtain, toilet cubicles, barking dog, squeaky hinges, slatted closet doors, glimpses in mirrors, ghost story references, a sinister truck, foreboding dreams, scantily clad girls in jeopardy, slow-witted cops, straight razor (but not a switchblade) and even a chainsaw! Not to mention several red herrings and "He's not dead!" moments. All of this adds up to a thoroughly effective thriller full of nearly unbearable suspense--some scenes are very hard to watch, since extreme violence from the beginning tells us to expect absolutely anything. In this way, the film is like a pure, stripped-down experimental horror film without any other point. And as such it works brilliantly. The problem is that as the story progresses, another theme develops: You begin to feel that the filmmakers really hate women! They're probably just trying to be true to the genre, but this overriding nastiness (much more than simple victimisation) goes way over the line and sours the whole thing. [18 strong themes, extreme violence, language] 22.Jan.04

UTOPIA: NOBODY'S PERFECT IN THE PERFECT COUNTRY
[Folk Flest Bor i Kina — Most People Live in China]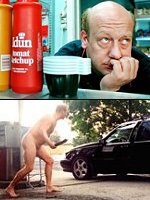 dir Thomas Robsahm, Morten Tyldum, Arild Frohlich, Sara Johnsen,Ingebjorg Torgersen, Terje Rangnes, Magnus Martens, Martin Asphaug, Hans Petter Moland
scr Thomas Robsahm, Per Schreiner, Kjetil Lismoen, Marion Hagen, Erlend Loe, Harald Rosenlow Eeg, Nikolaj Frobenius
with Trond Hovik, Marit Pia Jacobsen, Sampda Sharma, Sven Nordin, Martin Slaatto, Kristin Skogheim, Gjertrud Louise Jynge, Agot Sendstad, Nils Sletta, Rosa Engebrigtsen Bye, Luis Engebrigtsen Bye, Edvardt Schultheiss, Dani Aso Ahmad, Odd Magnus Williamson, Sverre Anker Ousdal, Lasse Valdal, Marianne Krognes, Ole-Jorgen Nilsen, Elin Sogn
release UK 6.Feb.04 effc • 02/Norway 1h22


REVIEW BY RICH CLINE

This clever anthology was created to examine the political parties in Norway's 2002 election. Each segment flows easily into the next, bridged by a framing story that holds everything together almost like nine interconnected Twilight Zone episodes--surreal but strongly evocative, with clever twists, vivid characters and something important to say. The connecting bits are set in a petrol garage where the owner (Hovik) dreams of completing his antique airplane, while falling in love with the local mail-lady (Jacobsen) and meeting a succession of passers-by...
In Most People Change, a man (Nordin) loses literally everything and is left roaming the woods naked while another guy (Slaato) drives off with his wife and son. Some People Miss Home hilariously centres on a workaholic city girl (Skogheim) whose mobile phone is swallowed by a cow. The most touching segment, Most People Want Family, is about a lesbian couple (Senstad and Jynge) trying to keep track of a mischievous Romanian orphan. Most People Need Company sees a retired man (Sletta) helping a team of relationship-obsessed young women get their car back on the road. The chilling Some People Are Blind centres on two kids (Rosa and Luis Engebrigtsen Bye) in a scam involving donations for children in Africa. Most People Need Love is about two young men, one of whom (Williamson) exerts complete control over the other (Schultheiss). The ethereal and moving Some People Are Lost follows a man (Ousdal) driving through the night, trying to rediscover who he really is. And Most People Don't Care tracks a cheery group of retired workers on a mountain hike, where they encounter a woman (Sogn) sinking in a bog.
Not one of these stories follows a predictable path--each tightens a screw, highlighting both the power of human nature for good and evil, as well as the cruelties of both fate and a political system that doesn't care. All of the direction and acting is first-rate; it looks absolutely beautiful and is packed with memorable, moving characters as well as references to other films. And while the political parties artfully portrayed in each segment will be unfamiliar to foreign audiences, the film has a universal message of hope amid frustration that applies to everyone. Especially in an American election year! [themes, nudity, language] 21.Jan.04